Photos: A drive through Elba
Submitted by Howard Owens on May 23, 2012 - 9:31pm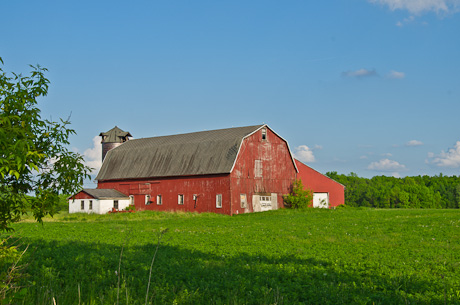 Really, without a plan, I found myself in Elba late this afternoon, and then my drive back to Batavia took a few twists and turns. Here are some pictures from the drive.
Above, a red barn on Ford Road.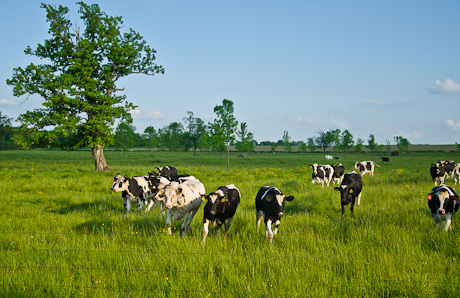 My intention was to take a picture of the tree to the left. The cows either thought I had food or are eager to get on camera and they came running over toward Route 262.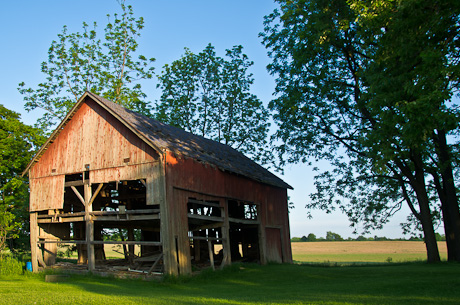 The McCoys on Norton Road gave me permission to walk into their back yard and take a picture of this old barn, which turns out to be just over the property line and actually on Torrey Farms' property.
There's a couple of old shacks on Norton Road that always draw my attention. The flowers in this case provided some added visual interest.
Anybody care to identify this plant? This was actually taken off Bank Street Road, Batavia, but I saw the plant two or three times while driving through Elba.
That is an American Cranberry Viburnum (Viburnum trilobum)
trilobum = 3 lobes referring ot the leaf
Oh and the flowers in the one pic of the shack are Dame's Rocket (Hesperis matronalis). Considered invasive in many states.
May 25, 2012 - 10:08pm
#5
Hi Howard, I've enjoyed your photos since you started posting them, especially the old barns. They are rapidly disappearing from the countryside and have become quite rare. I wonder if you'd like to photograph the few remaining wooden silos around Genesee County. The best preserved ones that I've seen are the twin silos in Leroy by the railroad crossing near the Depot restaurant. I've also seen a couple that are falling down with their barns. Maybe some of the Batavian know of others.