Photos: Blue Devils take Section V title
Submitted by Howard Owens on March 4, 2013 - 1:24am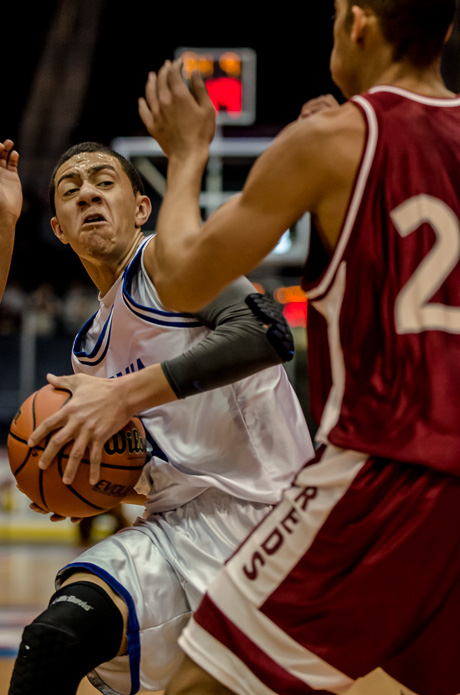 Jalen Smith scored 25 points as the Batavia Blue Devils rolled over Newark in the Section V Class B1 title game Sunday, 58-41
Here are the photos from the game. We'll have a game story later.
UPDATE: Story by Nick Sabato
Batavia captured their third sectional championship in five years after defeating Newark, 58-41.
The top-seeded Blue Devils stymied the Reds with strong defense to jump out to an early lead in the first quarter, helped by the hot shooting from Class B1 MVP Jalen Smith, and never looked back.
Newark struggled to score all game and was held to 6-of-23 shooting and committed 11 turnovers in the first half, while Smith scored eight points in the first quarter to give Batavia a 26-14 halftime lead.
"We built our program on defense," said Batavia Head Coach Buddy Brasky. "We stress every single day in practice that every single possession counts on defense. That's what we believe in."
Coming out of the half, Newark began to gain some momentum as Batavia's shooting went cold, including cutting the lead to eight with two minutes remaining in the third quarter before sophomore Jeff Redband, who was playing in his fifth varsity game of the season after leading the jayvee team in scoring, hit a three-pointer to extend the lead to 11.
Justice Fagan would add a three-point play to push the lead to 37-23 heading into the fourth quarter.
The Reds would open the scoring in the final frame on a three by Anthony Lombardi. Smith would answer with a three of his own.
From that point Smith would go off.
After another three from Lombardi, he connected on back-to-back threes to give the Blue Devils a 17-point lead.
In total, Smith would score 13 of his game-high 25 points in the fourth quarter, after only four in the second and third quarter combined.
"Coach (Brasky) always tells me to keep shooting, keep playing my game and trust my teammates to get me open," Smith said. "It's pretty much continuous for every game."
Leading scorer Justin Washington struggled with his shooting touch all game, but he once again made up for it by stuffing the stat sheet for the Blue Devils, scoring 11 points, grabbing nine rebounds, five assists, five blocks and three steals.
"Points don't ever tell the story for Justin," Brasky said. "He rebounds, he defends, he helps relieve pressure from the other team, he makes great passes in transition and that's how Jalen gets quite a few of his shots."
For Batavia, it was their fifth sectional championship in school history. It was also the first since 2010, a year that they made it all the way to the New York State semi-finals.
"There is a very proud tradition here with our ex-players," Brasky said. "They built the program and pass it along every year to the young guys and now this year's team can pass it along to the young guys coming up. That's how good programs stay good."
The Blue Devils' roster is comprised of six seniors, five of whom are starters, which means they are a very tightknit group on and off the floor.
"We have been thinking about this day since we came together in fourth grade," Smith said. "It feels great to get out there and finally achieve one of our goals. We work hard and play together as a family."
Brasky, who was named the Section V Class B1 Coach of the Year, is also the father of one the seniors on the team, Jake Brasky.
Coach Brasky won a sectional championship in 2005 with his oldest son, Adam, and has coached this group of seniors since the fourth grade when they began to play organized basketball together.
"Since these guys have been in fourth grade I have been coaching them a lot in the off-season and in youth tournaments," Brasky said. "So I have grown close to this group, partly because my son is in the group. So it is special to share this moment not only with my son but with these seniors."
Smith was joined on the all-tournament team by Washington and senior Jamesson Etienne (eight points and four steals) for Batavia.
Lombardi, who was also named to the all-tournament team, led Newark (14-7) with 13 points and seven rebounds in defeat.
Batavia (18-3) will now face the Class B2 champion, Hornell (19-2), on Tuesday at the Blue Cross Arena. Tip-off is scheduled for 5:45 p.m.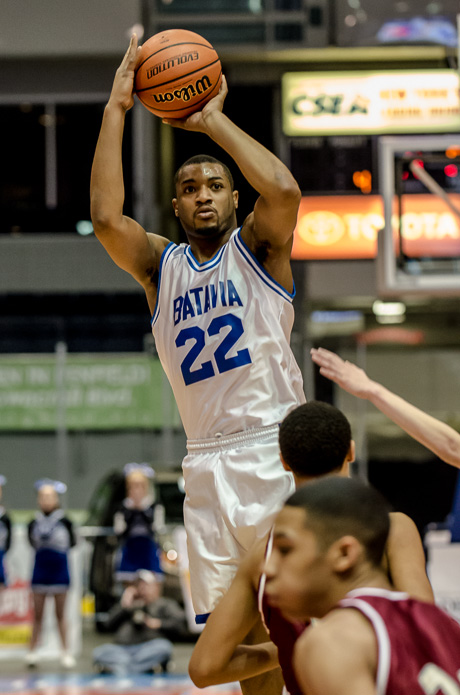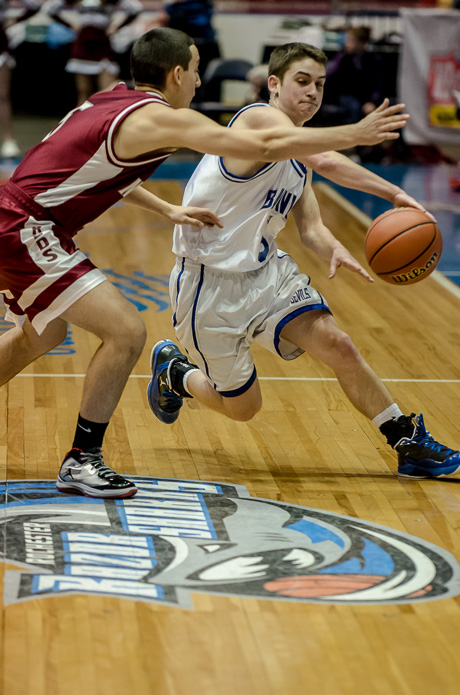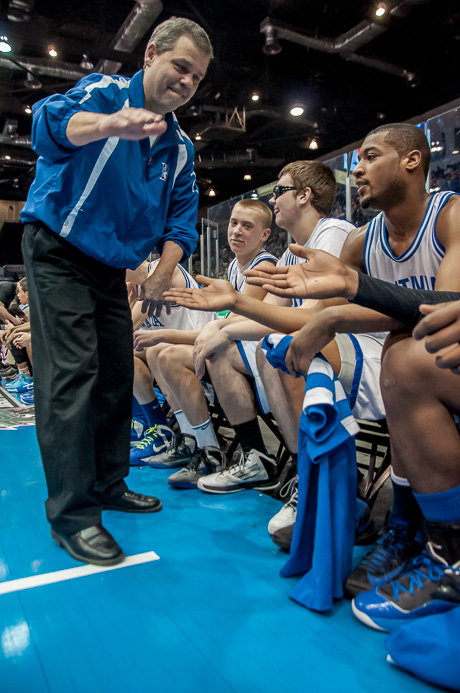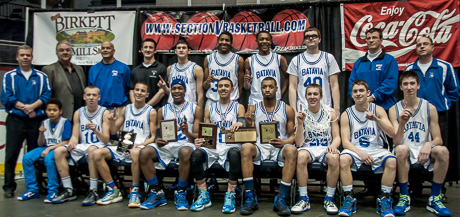 To purchase prints of photos from this game, click here.
March 5, 2013 - 12:28am
#2
Big congrats to Batavia! We're all proud of you!