Photo: Western painting for new downtown restaurant
Submitted by Howard Owens on May 8, 2012 - 8:15pm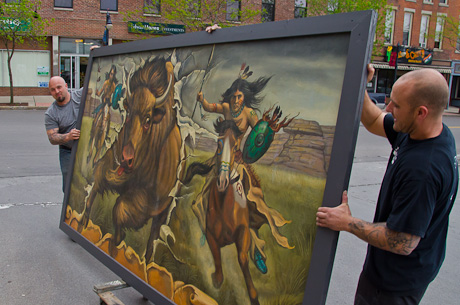 Driving down Main Street late this afternoon, I spotted Ken Mistler, left, and Louis Kingsbury and a third person hauling a large painting down the sidewalk. I drove around the block and caught them pulling the painting through the Jackson Street parking lot.
Mistler is installing the painting -- this is one of at least three -- in his new restaurant, City Slickers, the former South Beach.
Americana.. western, country. Chicken, Ribs, Steaks, Burgers, Salads, Etc... Looking at the 25th of May... 24 Lines for draft beer..Piano Bar. 10 T.Vs....Nothing on the menu priced over 15.99..Daily Specials. I will do a sponsored ad with The Batavian soon for full details..