Photo: Stiletto Walk scheduled for Oct. 1
Submitted by Howard Owens on August 23, 2013 - 11:18am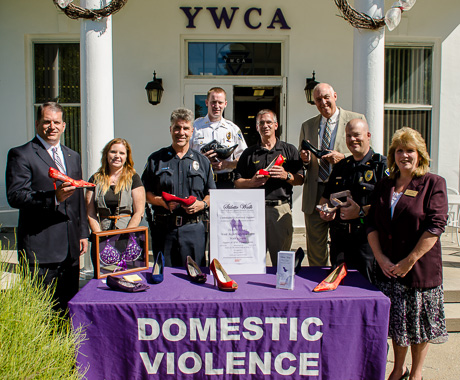 The YWCA is sponsoring a Stiletto Walk on Tuesday, Oct. 1, in the City of Batavia, and to help promote the event, some local community leaders showed up this morning at the Y for a photo.
Men need not wear high heels (though local photographers encourage it) for the walk. Women are encouraged to wear any kind of women's footwear, even pink tennis shoes.
The event is aimed at raising awareness about domestic violence and costs $28 for the walk and supper afterward (or $20 just for the walk, or $8 just for the dinner).
To register visit ywcagenesee.org or call (585) 343-5808.
Pictured from left, David Boyce, Linsey Vallett, Det. Rich Schauf, Chief Shawn Heubusch, Sgt. Greg Walker, Jim Fulmer, Sgt. Dan Coffey and Cindy Earl.