Photo: Rotary Annie on the moooove
Submitted by Howard Owens on September 30, 2013 - 8:36pm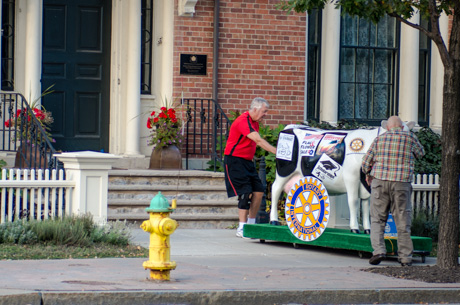 We are told that Rotary Annie is typically delivered to the unsuspecting victim in stealth, but Ray Shirtz and Ed Leising were caught in the act -- dropping off the sacred cow at Seymore Place/GO ART! early this evening.
Our highly confidential source informs us that since GO ART! is host to Rotary meetings, it's unlikely anybody in the building is facing a fine for having the cow on display.
Typically, the fine for a Rotary member who gets the cow is $60, though it's possible to purchase insurance for $30.
There should probably be some fine for getting your picture on The Batavian moving the cow.
September 30, 2013 - 10:44pm
#2
How, exactly, is the man in the red shirt, pulling or pushing the cow......?