Photo: Rollover accident on Ford Road, Elba
Submitted by Howard Owens on October 14, 2011 - 11:36am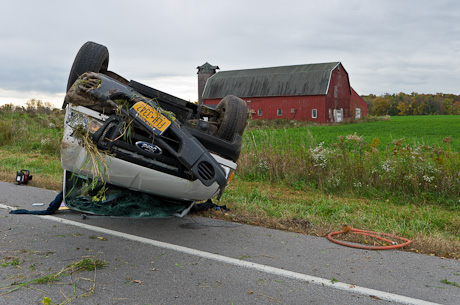 The driver of this Ford pickup truck walked away from this accident with hardly a scratch.
According to a State Trooper on scene, the driver was eastbound on Ford Road in Elba when he apparently fell asleep. He woke up, the trooper said, and over corrected, sending the truck into a ditch on the south side of the road.
Elba Fire Department and Mercy EMS responded to the scene. The call came in shortly after 9:30 a.m.
No further details available at this time.
October 14, 2011 - 1:44pm
#2
How Ironic...... (Ford Roll over on Ford Road)
October 14, 2011 - 6:17pm
#4
NYS License Plate Number FLH-3342, who is that Howard? I hope the driver is OK and the family doesn't find out from the Batavian, and you know I am addicted, as badly as the the worst crack whore in the world, to posting on The Batavian (it pisses me off big time). I have nowhere else to say what I feel. Thank You very much, you have no idea how much I appreciate it, "El gusto es mio, Big Howie y Billie"
It's some genetic bullshit, I've read a few books about it and they didn't help.
"Boost Batavia, It's good for you!"