Photo: New Main St. Pizza sign
Submitted by Howard Owens on June 7, 2011 - 10:24am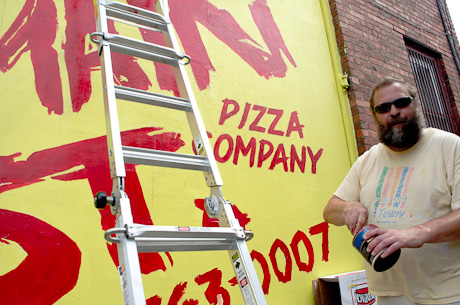 Remember when businesses had painted signs on the sides of their buildings?
Vic Marchese is going old school with the sign he hired Vinny DelPlato to paint for him on the back of Main St. Pizza Company.
DelPlato is responsible for many of the murals you see around town.
Here's a piece we did on him when he was working on the mural at Next Level Fitness.
June 7, 2011 - 10:44am
#2
My opinion - if Marchese had enough sense, he'd invest in a second cash register and more wait staff instead of a new sign. We used to be regulars at Main St - at least once a week. We stopped because the line for pickups is always out the door and takes forever to move. Over 30 minute waits *just to pay* caused us to miss more than one family function and that's not acceptable. We've switched to Ficarella's even though we prefer Vic's pizza, and we're not the only ones. Just my $0.02, in case anyone who can convince the man is reading. I'd really like to go back to that better pizza.