Photo: Historic Pontillo's sign removed from pizzeria
Submitted by Howard Owens on March 29, 2011 - 12:50pm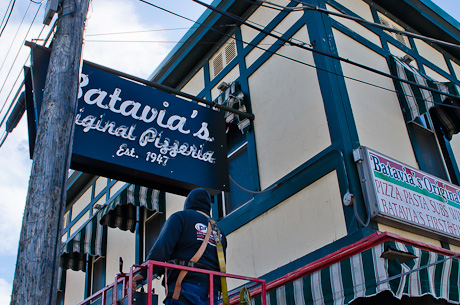 One of Batavia's most historic landmarks, the Pontillo's sign on the pizzeria at the corner of East Main Street and Harvester Avenue, was removed this morning and replaced by a "Batavia's Original Pizzeria" sign.
Three investors from Rochester bought the former Pontillo's location and opened it as Pontillo's in early 2010, but they were served with a trademark infringement suit in September.
In early December, the name of the business was changed to Batavia's Original Pizzeria.
The new sign says Batavia's Original was established in 1947.
The original Pontillo's closed in the fall of 2008 and the property was eventually sold at a foreclosure auction. The Rochester investors purchased the property from the bank that bought it at auction. (Financial history covered in this story.)
Sam Pontillo, son of Salvatore and Elizabeth Pontillo, is manager of Batavia's Original.
The Le Roy Pontillo's location was closed a couple of months ago and Sam Pontillo reportedly removed all of the equipment. His brother, John Pontillo, may be planning to open another pizzeria at that location. John currently operates a pizzeria in Geneseo.
March 29, 2011 - 2:26pm
#2
Dishonesty will kill this pizzeria for sure . Number one , Sam jr. wasn't alive when Pontillos was established . Number two Batavia's original isn't the original , Pontillo's made that claim and this is not the same (go eat there you will notice its not same ). Last ,how can they say they were established in 1947 , they just opened a year ago . What a joke . Go check out John Pontillos place in Geneseo , that is as close as it gets . He did most of the work when Betty and big Sam wre alive and he seems to be the one that knew the secrets .