Photo: County planning director honored by board members on his retirement
Submitted by Howard Owens on May 10, 2012 - 11:41pm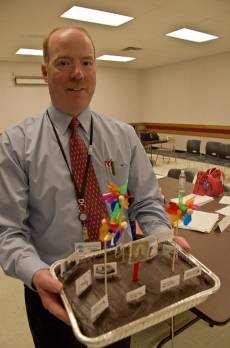 County Planning Director Jim Duval is retiring after 36 years with the county June 14.
To help celebrate his final planning board meeting, Board Member Lucine Kauffman baked him a chocolate cake decorated with symbols of some of the planning issues the county has dealt with, such as signs, windmills and the STAMP project (symbol: a postage stamp on a stick).
Other members brought in drinks, cookies, cheese and crackers and other refreshments, which were served after the meeting.
Duval, a Bethany resident and Bethany volunteer firefighter, plans to stay in the area.
He noted that he'll now have more time to respond to daytime emergency calls.
Duval also told board members they will be left in good hands with an outstanding planning staff.
May 11, 2012 - 12:58am
#2
Congrats Jim. Enjoy yourself. Thanks for your service.
Dick and Sheila Hale
G.C.C. (Retired)