Once complicated case untangled, former fugitive given another two-plus years in prison
Submitted by Howard Owens on September 4, 2013 - 8:08pm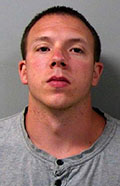 It took nearly three hours for Benjamin Muntz to find out that Judge Robert C. Noonan would be tacking another two to four years onto his prison term.
In the arcane labyrinth of our judicial system's sentencing guidelines, there was no clear cut answer on what to do with Muntz's case.
It's that complicated.
In January, Muntz entered guilty pleas to counts of burglary, 3rd, and grand larceny, 4th. Rather than show up for his sentencing in March, he flew south. He also became a suspect in another burglary and was charged with another felony.
Eventually, he was caught and returned to Genesee County.
He was sentenced in April by Noonan to three and a half to seven years in state prison and charged with bail jumping.
If the only charges against Muntz were those earlier felonies and the bail jumping, the sentencing guidelines are clear: Any sentence Muntz received on bail jumping would need to be served consecutively (not at the same time, or concurrently) with his other sentence.
As part of a plea deal, Muntz had received a one and a third to three year sentence cap on the bail jumping charge.
The curve for Noonan was that newer burglary, 3rd, charge.
If Noonan gave Muntz another three and a half to seven on that charge, could the bail jumping sentence be concurrent with that sentence, or would it need to be served consecutively?
Noonan didn't have the answer. The attorneys for the prosecution and the defense didn't have the answer. The prison guards who transported Muntz in his DOCs green jumpsuit to County Court today certainly didn't have the answer.
After consulting his law books and case law in chambers and conferring with attorneys -- in between hearing other cases -- Noonan concluded that if the second burglary sentence was consecutive then the bail jumping sentence would be consecutive to that.
In other words, Muntz would be looking at more than eight years and up to 17 years in prison.
Through his attorney, Thomas Burns, Noonan offered Muntz a deal: waive his sentence cap on the bail jumping conviction so Noonan could sentence him at two to four years and Noonan would make his other burglary charge, at three and a half to seven, concurrent with his prior sentence.
Once Burns got it all thoroughly explained to Muntz, with a little assistance from one of the prison guards, Muntz agreed to the arrangement.
For prior coverage on Muntz, click here.