Officer Andrews ready to hit the road and see America after 24 years on the force
Submitted by Howard Owens on January 20, 2012 - 7:20pm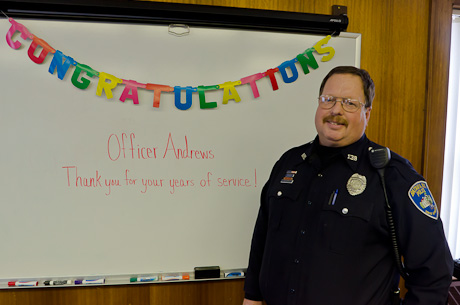 Officer Jay Andrews, who started with the force 24 years ago, hung up his badge today.
His retirement party was attended by people from through the local law enforcement community, not just the Batavia Police Department.
Andrews, who started his career in Wyoming County, including four years with the Attica PD, plans to work with Habitat for Humanity in the near term and then take off with his wife on their motorcycles in the spring and summer and see a bit of the country. After that, well, he's still deciding what to do next.
As a young man, Andrews -- originally from Boston, N.Y. -- worked in foundries, operating blast furnaces, but when the steel plant he was at in Erie County closed, he was out of work for six months. He eventually landed a job in Rochester and worked there for four years, but decided to take the civil service exam and apply to become a police officer.
The Wyoming County Sheriff's Office hired him and put him through the police academy and then he joined the Attica PD, but when there was talk in Attica of shutting down the PD there, he applied for a job in Batavia.
He said it's been a good run.
He was a founding member of the Emergency Response Team (commonly referred to as SWAT), eventually training other officers. He also supervised the armory and was a firearms instructor.
"I got to do a lot of different things for the department, a lot of opportunities that that a lot of people don't get in their careers," Andrews said.
Andrews believes the Batavia PD, which has seen an influx over the past year of rookie officers, will do just fine after he's gone. He said there's a wide range of expertise in the department and a lot of really good people.
"It's a fine department," he said. "They won't miss a beat. The department will do well and the city will be in fine hands with these young guys."
January 20, 2012 - 10:37pm
#2
Congratulations Jay. Great job and you earned your retirement. Enjoy.
January 21, 2012 - 9:14am
#3
Congratulations Jay! Thanks for all you had done to Protect and Serve the people of Batavia and beyond!
It was nice to have had a chance to shoot the breeze with you yesterday while you were outside of Max Pies.
I am now sure that you have enough to keep you busy for a long time;0)
Best of Luck!!