Notre Dame stays undefeated with easy win over Lyndonville
Submitted by Howard Owens on December 19, 2013 - 2:20am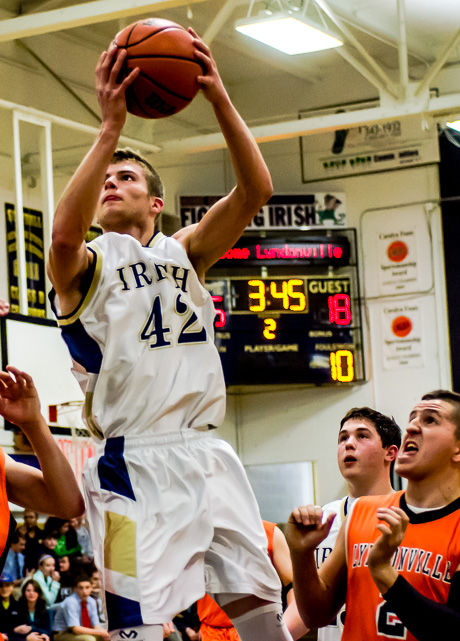 The final score was as lopsided as the size differential between Notre Dame and Lyndonville in an early season basketball match on the home court of the Fighting Irish on Wednesday night.
The Irish notched the team's third win of the season 90-51.
While Notre Dame has some clear offensive firepower, the ability to grab rebounds at both ends of the court created more scoring opportunities.
"I thought the Lyndonville kids played hard," said ND's Head Coach Mike Rapone. "They got some good play off their guards, but they're undersized underneath and they had trouble with us off the boards."
The Tigers put only two 6'0" players on the court through all 32 minutes of play while the Irish could call on Jarrod Wall at 6'2", Josh Johnson at 6'1", Alec Covel at 6'2", Alex Domkowski at 6'3", Tim McCulley at 6'3" and Charlie Herbert at 6'5".
In some ways, Herbert was the story of the game.
Called upon to start at center after Caleb Nellis sprained his ankle in practice yesterday, Herbert, who never played basketball at all before this year, left Rapone wondering what could be if the school's star wide receiver listened to his peers begging him last year to fullfill their hoops dreams.
"I think had he played last year he'd really be a force this year because he gets better every day," Rapone said. "I think by the end of the season, he's going to be pretty solid."
Herbert, whose past athletic prowess was confined to the gridiron showed a strong sense of how to muscle opponents under the glass for points and rebounds.
With 10 rebounds, only he and McCulley (13) reached double digits. Herbert, with eight points, missed a double-double by one field goal.
McCulley also had 23 points and with three more assists would have had a triple-double.
Guard Josh Johnson was second on the team in scoring with 18, and had eight rebounds, but only two assists.
Covel and Domkowski each added eight points.
Lyndonville scored 18 points in the first half, but most of that came before more than a couple of minutes had passed in the second period as ND's full-court press cut off passing lanes, forced mistakes and eventually wore down the Tigers.
Even ND's bench, taking over much of the duties about half-way through the second period, kept the pressure on Lyndonville.
While Rapone put his starters back in the game to start the third period, he stopped using the press (because it was the right thing to do, he said), and the Tigers went on a little scoring run and got enough looks through the half to notch 31 points.
Pat Hinkson (15) and Evan Milleville (11) led the Tigers in scoring.
Even so, the play of the second team was impressive. They stayed calmed, stuck to the game plan and stayed aggressive through the final minute of play.
"They work us hard in practice every day," Rapone said. "What I like about them is they play basketball when they come in. They don't just see who can get a shot off first. They run our offense. They run our defense. They do what they're supposed to do. I'm really proud of them."
Ironically, perhaps, among the leaders on the second team was the shortest player to handle a ball Wednesday, 5'6" junior Dylan Fix.
Fix was in control with a ball in his hands, making few mistakes, staying confident and calm and demonstrating an unmistakeable fearlessness. He shot laser-sharp passes between defenders, fought for rebounds against bigger players and fired three-pointers with every open look, even though it was an off night for his shooting stroke.
"He plays hard," Rapone said. "He knows they game. He shoots the ball very well. He didn't have one of his better shooting nights tonight, but normally he shoots the ball very well. The only thing that's ever held him back is he's a little undersized. He grew a little bit during this year and hopefully he grows a little more next year. He's definitely comes in and makes things happen."
Top photo: McCulley; bottom photo, Fix.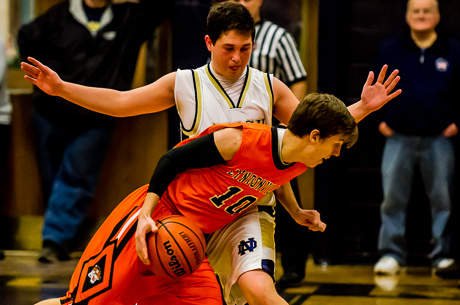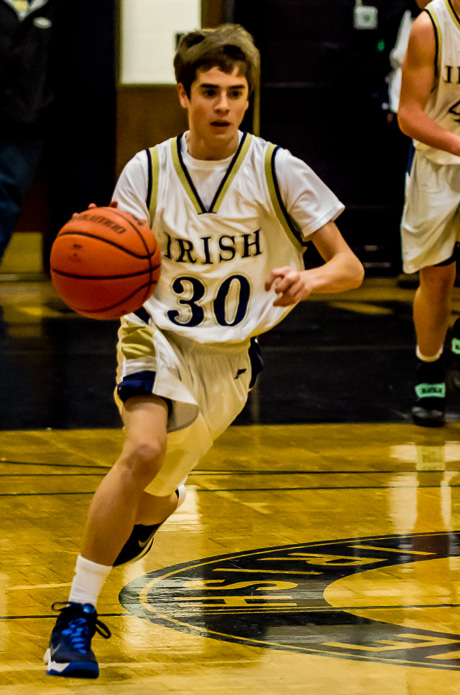 To purchase prints of photos, click here.