No mayoral resignation forthcoming in Corfu, so what courts call 'drastic remedy' next option for trustees
Submitted by Howard Owens on August 24, 2013 - 8:49am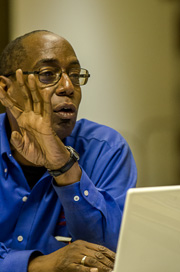 Mayor Ralph Peterson (file photo)
Corfu Mayor Ralph Peterson did not respond to an Aug. 16 letter from Village Attorney Mark Boylan demanding his resignation.
The letter was sent to Peterson at the direction of the board of trustees and alleges Peterson has taken several actions not in the best interest of the village.
Peterson was given a deadline of 5 p.m., Aug. 23, to submit his resignation or face a petition to the appellate division of the NYS Supreme Court seeking his removal from office.
It will not necessarily be easy to convince the court to remove an elected official from office. In prior cases, justices have ruled that removal under Section 36 of the Public Officers Law is a "drastic remedy."
According to a ruling in 2011 on an attempt to remove the mayor of the Village of Middleburgh, the trustees seeking Peterson's ouster will need to build a case that shows "unscrupulous conduct or gross dereliction of duty or conduct that connotes a pattern of misconduct and abuse of authority."
Actions that are considered "minor neglect" or "administrative oversights" and even some violations of the law do not rise to the level of misconduct serious enough for the "drastic remedy."
If the removal case against Peterson goes forward, it will be up to a panel of justices in the 4th Appellate Division to determine if the case presented against him is sufficient.
Boylan's letter to Peterson probably lays out the case the trustees will try to make against the mayor.
The letter accuses Peterson of:
A general pattern of obstruction and interference with village board attempts to hold Judge Robert Alexander and his daughter Brandi Watts, a former court clerk, accountable for court funds found to be missing by a state audit. "It's clear your relationship with the judge has influenced many of your decisions in this matter."
Peterson is accused of withholding a settlement offer letter from an attorney representing part-time police officers who have threatened a lawsuit against the village over pay and scheduling issues. Peterson reportedly received the letter in May but kept knowledge of the letter to himself until August despite repeated requests by trustees for updates on the threatened suit. During an Aug. 12 closed session meeting, Peterson allegedly told trustees, with Boylan in the room, that he wanted the suit to go forward so the village's insurance company would pay off the officers.
During his time in office, Peterson is accused of trying to use his power as mayor to retaliate against former Deputy Mayor Al Graham over a long history of disagreements by getting Graham removed from his job as supervisor, working for Camden Group, of the Corfu sewer plant. Peterson allegedly threatened to "see to it" that Camden's contract with Corfu would be terminated if Graham was not removed.
Peterson is also accused of harassing and intimidating village employees Sandra Thomas, clerk, and Denise Beal, deputy clerk. The letter states that Peterson's actions have subjected the village to potential litigation.
During his time in office, Peterson is accused of abusing his authority several times, including hiring police officers without board approval and renewing village insurance policies without board consent.
In example cases we can find, courts have shown some reluctance for removing elected officials.
In a 1976 case, a justice wrote:
The court certainly recognizes the sacred right of the people to choose their elected officials. Section 36 of the Public Officers Law is in no way intended to interfere with this vital aspect of democratic society. Rather, this section has been enacted to protect the citizens from an elected official who by his misconduct, malfeasance, maladministration or malversation, abuses his public trust, harms the public interest and violates his oath of office.
The case cites a prior case with this observation:
The intent of the law is to bestow on the courts discretion to draw a line between an actual intentional breach and mere oversight. Thus, certain administrative oversights and municipal accounting deficiencies by the Mayor of a village, though clearly technical violations of village law, were found attributable to the Mayor's inexperience and did not constitute grounds for removal. (Matter of Pisciotta, supra.) Had the deficiencies continued unabated, such continuation could be found to constitute an intentional disregard of duty.
Removal of an elected official by the court, however, is not without precedent. In 1997, Victor R. Grant, supervisor of the Town of Lake Luzerne was removed from office.
In that case, Grant was found to have engaged in a willful conflict of interest by acting as insurance broker for the town's insurance policy, drawing commissions on the sale and renewal of the policy.