New program coordinator appointed for Genesee Justice
Submitted by Howard Owens on October 30, 2012 - 3:00pm
Press release: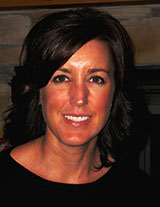 The Genesee County Sheriff's Office reports the appointment of Shannon L. Ford to fill the position of Genesee Justice program coordinator; a position that was created after a vacancy was left by the resignation of the assistant director.
Ford has more than 13 years of experience in the field of alcohol and substance abuse. While previously employed by Genesee/Orleans Council on Alcoholism and Substance Abuse, she has held the titles of assistant director of Prevention, Prevention supervisor, Prevention educator, and Chemical Dependency counselor.
She is a 1990 Regents High School graduate from Alexander Central School; a graduate from SUNY at Buffalo with a bachelor of arts degree in Psychology/Sociology; a 2007 graduate of Leadership Genesee; has served on the Juvenile Justice Planning Committee for the past seven years and was its chair in 2006; and has been instrumental in the awarding of numerous grants to GCASA, which include Drug Free Communities Grant, Gambling Prevention Grant, Enforcing the Underage Drinking Laws Grant, and NYS Tobacco Control Community Partnership Grant.
Also to her credit, within the past five years, Shannon has developed a program called "Accountability Circle" to address underage drinking using restorative justice principles. This program currently serves more than 300 youths per year.
Sheriff Gary Maha stated, "Ms. Ford comes highly recommended for this position and will be a great asset to Genesee Justice. She has demonstrated that she is a dedicated individual who is eager to accept the position of Genesee Justice program coordinator.
"In addition to supervising the Genesee Justice staff, she will also oversee the Justice for Children Advocacy Center. Shannon was the unanimous selection of an interviewing committee and will start in this position November 5."