New haunted house in Le Roy is two floors of fright
Submitted by Howard Owens on October 1, 2013 - 7:40pm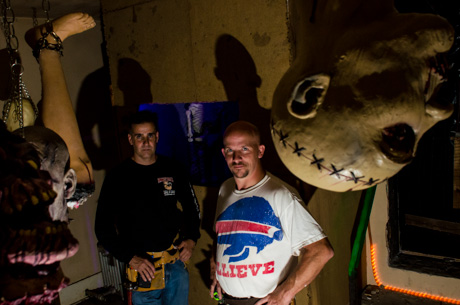 What scares you? Spiders? Clowns? Body parts? Drills and saws? Dark shadows reverberating with terrified screams? How about a crazy Archie Bunker?
Jason Beaumont and Jeff Koch have teamed up to create a massive haunted house filled with just about every terror you could imagine on the second and third floors of the old Eagle Hotel in Le Roy.
Staffed by 40 actors playing ghouls, ghosts and monsters, the haunted house makes its debut Friday.
"After we bought this building a year and a half ago, we found we had lots of space but no practical use for it," said Beaumont, who is co-owner of the Smokin' Eagle, the restaurant and bar on the first floor. "Me and my buddy Jeff had talked at one point years ago about opening a haunted house and one day it hit me, this would be a great place."
Koch is an experienced haunted house builder. He's been doing one staffed by 25 volunteers at his house for 10 years. He said it took more than a month to build each year and was open only one night, Halloween.
The Smokin' Eagle haunted house will be open every Friday and Saturday through Oct. 26 from 8 p.m. until midnight.
The cost of a night of fright is $12. Outside the hotel is a ticket booth. The restaurant will be open, of course, and the ticket booth will also sell popcorn and candied apples.
The hotel space was perfect because it's rundown and was already filled with worn and haggard beds, chairs and dressers, Beaumont said. From there, it was just a matter of the two friends combining their creative energies to come up with a plan.
"This will be a unique experience, especially for people who have never been upstairs in this place," Beaumont said. "We want people to get that genuine experience with a real scare behind it and kind of get a flavor of this old building."
The original hotel was built early in the 1800s.
There's little doubt based on today's tour, the haunted house will deliver several jolts of terror, and Beaumont said the experience should be considered PG-13.
"That's a rough estimate," Beaumont said. "If a kid likes this kind of thing and is 11 or 12, and if the parents are OK with it, we're OK with it."
The tour of about two dozen themed rooms is not, Beaumont said, "for the weak."
Koch said he really hopes people who come through the haunted house will find it thoroughly entertaining.
"I want people to have fun," Koch said. "A lot of people have fun when they get scared. It puts a big smile on their face. They scream for a minute and they laugh the next three. I really get a big kick out that."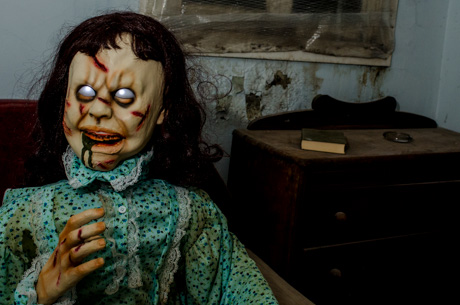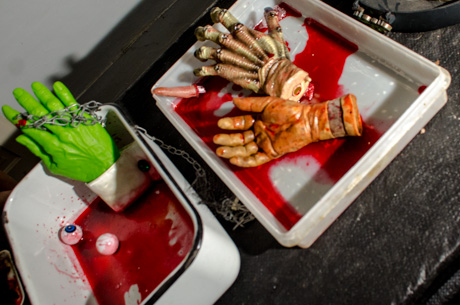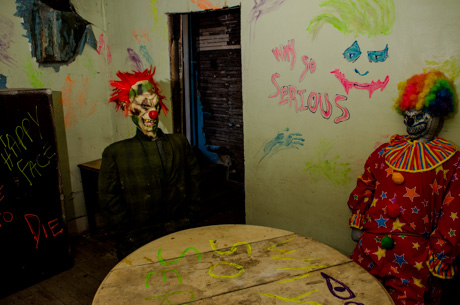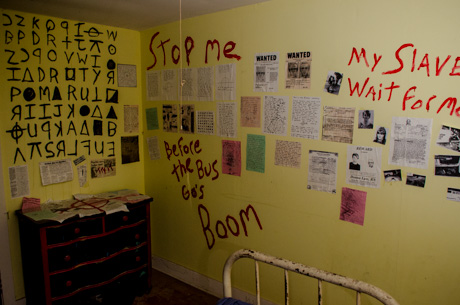 October 1, 2013 - 10:02pm
#4
Hello Tom, you never went to a haunted house before? They are big thing these days. You are never to old.