Muckdogs go out on high note in final game of 2011
Submitted by Howard Owens on September 4, 2011 - 8:30pm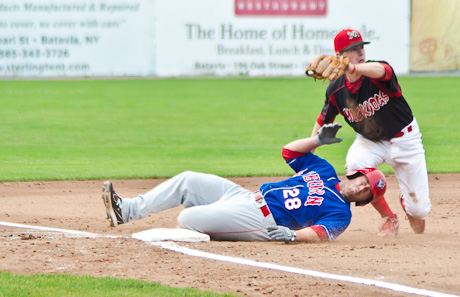 At the top of the ninth inning, the Dwyer Stadium PA announcer played a song by The Doors.
This is the end
Beautiful friend
This is the end
My only friend, the end
Of our elaborate plans, the end
Of everything that stands, the end
No safety or surprise, the end
I'll never look into your eyes...again
For the Auburn Doubledays, it could have been a sign that the Muckdog's 4-1 lead could withstand any offensive assault. It could have been a reference to the final game of the season.
Or, perhaps, a dirge for the final game of the Batavia Muckdogs. Ever.
It's too soon to say, and nobody really knows, whether there will be a 2012 campaign of professional baseball in Batavia, but at least the Muckdogs gave the faithful something to cheer about on a cloudy Sunday in September.
The Muckdogs close out 2011 with a record 37-38, good enough for fourth place in the Pickney Division of the NYPL (a storied baseball league founded in Batavia), but leaving them eight games out of first place.
Vance Albitz, scrappy shortstop who played his college ball in San Diego but went undrafted despite twice being named defensive player of the year, helped lead the Muckdogs to victory with two hits, two runs scored and an RBI.
DH Jeremy Lee Patton, another first-year player, finished out the season with a .293 average after banging out two hits.
The win went to Javier Enrique Avendano (1-2) and Danny Miranda picked up his 15th save even though he surrendered two hits and run.
Miranda was helped out by two crucial Doubleday base running blunders.
Bryce Ortega, who should have been out at second except for a throwing error by second baseman Garrett Wittels, tried to advance to third. Ortega's decision to race for third was questionable with his team down by three runs. But with third baseman Daniel Stienstra busy retrieving Wittels' errant throw, maybe worth the gamble.
Stienstra grabbed the ball and was able to flip it to Miranda, charging toward the bag, and Miranda applied a tag with Ortega still two feet from the base (though some fans on the third-base side said the tag was never made).
When Russell Moldenhauer doubled to center, Matthew Skole scored and Moldenhauer, perhaps feeling greedy, tried to stretch his double into a triple. He was, as the say, out by a mile.
And that, my friend, was the end.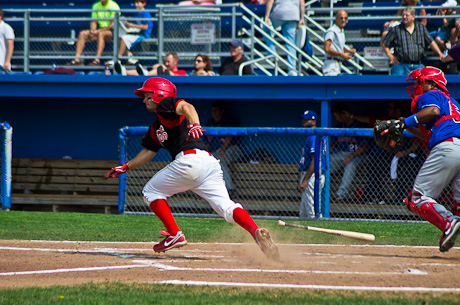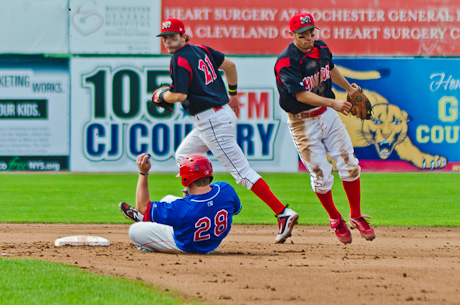 If you have trouble viewing the slide show below, click here.
September 4, 2011 - 11:13pm
#2
I Missed this season But if it is there swansong, I was there for the 2008 Championship Season!
September 5, 2011 - 8:23am
#3
My daughter and I were at the 3rd base line and it looked like he tagged him to us. We were down in the picnic area... and they were right in front of us. Was a fun game yesterday! can hardly wait for next season to start!
September 5, 2011 - 4:17pm
#4
Howard thanks again for your coverage of the Batavia Muckdogs. It was a fun year filled with many great memories. As always we made more friends in the stands and looking forward to seeing them next season......I hope!!! I checked out the NYPENN League statistics and our Muckdogs finished last in attendance with 37,029 total. We lost a few games because of weather but in 35 games we averaged 1,057. I do believe though that were up from last season which is very good in a bad economic time. Also its no suprise that we finish last in attendance as I believe we are in the smallest market in the league. General Manager Travis Sick and his staff did a great job this season. I can only hope we have another one in 2012.