McCulley's six TD tosses against Finney gives QB team's single-season record
Submitted by Howard Owens on October 12, 2013 - 7:14pm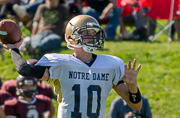 Tim McCulley (file photo)
Norte Dame's senior quarterback Tim McCulley set a new school single-season touchdown pass record today as the Fighting Irish beat Finney 66-24.
McCulley tossed six TD passes, giving him 24 on the season, surpassing the record of 18 set by Doug Condidorio in 1979.
The 24 touchdown passes put McCulley at sixth on Section V's all-time list for a single season. The record is 31, set by Shawn Mizro of Newark in 2002.
McCulley completed 14 of 20 passes for 226 yards, giving him 1,217 on the season. He's completed 68 passes so far this season.
Norte Dame next faces Attica to end the regular season, 7 p.m. Friday in Attica.
With the victory, the Irish (6-0) secure the #1 seed in Class D sectionals.
McCulley also rushed for 50 yards, scoring once on the ground.
Cam Chamberlain carried the ball nine times for 108 yards and two TDs. Peter Daversa also had a rushing touchdown and had 55 yards on two carries.
Leading the receivers was Luca Zambito with 83 yards on four receptions and three TDs scored. Charlie Hebert had four receptions for 61 yards and a TD. Jason Hart grabbed three passes for 31 yards and a TD. Josh Johnson converted two of his receptions into a TD and had 37 yards gained on the day.
Hebert had eight tackles and Joe Zickl had 7.5 tackles. Jack Sutherland, six, Jason Hart, six, Rui Han, five, and Johnson, four and a half.
Time of possession in the game was lopsided in Finney's favor, 36.33 to 11.27. Mike Jones rushed for 224 yards and scored twice on 28 attempts.
In other football action Saturday, Attica beat Elba/Byron-Bergen, 28-6. Attica pulled off the victory even without star running back Matt Perry.
Attica and Alexander are tied for second in the Genesee Region League with records of 5-1, while ND is in first with a record of 6-0.
Batavia beat Greece Arcadia 43-19. Brandon Stevenson gained 72 yards and scored a TD and nabbed an interception. Greg Mruczek was 5-7 passing for 92 yards and two TDs, both pulled in by Jacob Radka.