'The Market' in Corfu a true family-owned business
Submitted by Howard Owens on January 17, 2012 - 10:37am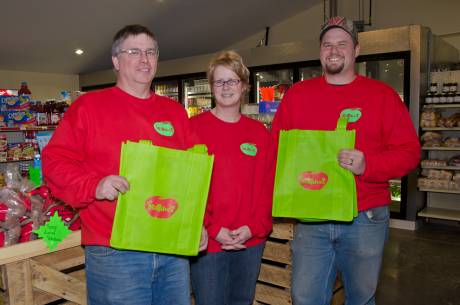 Members of the Rupracht family enjoy each other's company so much, they decided to go into business together.
Jim and Lori Rupracht owned and operated the J&L Feed Store in Corfu for 20 years. But as the number of hobby farmers in the area declined, they decided to change locations, build a larger store, add more products and focus on a larger customer base.
That's when son Ryan, who worked at the feed store from the time he was 8 years old, decided to become a partner in the business.
Ryan put up his own money and did the electrical and other work on the new building at 47 W. Main St., Corfu.
"We just really enjoy working working together," Lori said. "None of us can imagine going out and working for someone else. We're all independent and we like being independent. It's really important to just have us all together."
The 3,400-square-foot store sits on an eight-acre parcel and cost $250,000 to get up and running. It includes a greenhouse where the Rupracht will eventually grow greens in the winter and hold workshops on gardening.
Jim completed a master gardner course at the Cornell Extension in prepration for the new business.
The store still carries feed and other agricultural and home gardening supplies, but also a line of groceries -- from soft drinks to locally grown fruits and vegetables.
M&M Meats of Batavia are featured in the store and Jennifer Worthington moved her florist shop, Heaven's Gate, to the new location.
Ryan said he decided to get involved in the retail business not just because he enjoys working with his family, he simply likes living in Corfu.
"We're all people people," Ryan said. 'We've been here 20 years and we've gotten to know a lot of people here."
January 17, 2012 - 6:44pm
#2
That's great, best wishes for success!