Manhatten Ave man accused of selling cocaine to undercover agent
Submitted by Howard Owens on November 9, 2012 - 8:34pm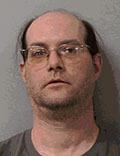 A 42-year-old Manhatten Avenue resident was taken into custody today on suspicion of selling cocaine in Batavia.
Robert K. Andreassen is charged with criminal sale of a controlled substance, 3rd, and criminal possession of a controlled substance, 3rd.
Andreasson is accused of selling a quantity of cocaine to an agent of the Local Drug Enforcement Task Force.
Task force members along with Batavia PD officers arrested Andreassen at his residence.
Following arraignment in county court, Andreassen was released under supervision of Genesee Justice.