Man wanted in connection with shots fired incidents arrested at home on Walnut Street
Submitted by Howard Owens on December 13, 2013 - 12:15pm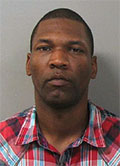 Deshawn Butler
The man who might be described as Batavia's most wanted fugitive has been taken into custody this morning.
Deshawn Butler, 34, was arrested at 8:45 a.m. when police located him at 38 Walnut St., Batavia, while assisting NYS Parole with another person sought by parole officers.
His is charged with a felony stemming from an alleged shots-fired incident Sept. 27 on State Street. He's also a person of interest in a report of shots fired Oct. 8 on Jackson Street.
Butler was taken into custody without incident, Officer Eric Hill said, arraigned in City Court and jailed on $25,000 bail or $50,000 bond.
The investigation is continuing.
UPDATE: According to a press release from Batavia PD, investigators received information that Butler might be at 38 Walnut with Harvey Lockhart, 31, who was wanted by NYS Parole. Butler is accused of firing a handgun at another person at 117 State St. Police received several tips after police released information that there was a warrant out for Butler's arrest. Butler is charged with reckless endangerment, 1st, a Class D felony, and criminal possession of a weapon, a Class C felony, and second-degree menacing, a misdemeanor. "This arrest is the result of good police work, cooperation amongst police agencies and citizen input," said Chief Shawn Heubusch. "This type of criminal activity will not be tolerated in the City. Every resident deserves to live in a safe neighborhood and be able to walk the streets without fear. The witnesses and residents who assisted the officers with piecing this case together should be commended for their actions. Every bit of information was valuable during this investigation." Additional tips can be called into Batavia PD through 9-1-1 or the department's confidential tip line at (585) 345-6370.