Man arrested after being spotted in Corfu scrap yard
Submitted by Howard Owens on May 9, 2012 - 2:24pm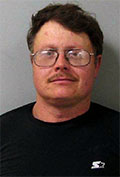 A 45-year-old Springville man is accused of stealing scrap from a Corfu business at least four times in the past month and was caught on his alleged fifth attempt late Monday night.
Taken into custody was Scott J. Taylor, of Sharp Street, Springville.
Management and employees of Ed Arnold Scrap Processors were reportedly monitoring the secured scrap yard late Monday night when Taylor allegedly entered the yard.
The Sheriff's Office was called and uniformed deputies and plain clothes detectives, along with the Village of Corfu PD, responded.
Employees detained Taylor when he allegedly tried to flee.
Taylor was taken into custody by law enforcement without further incident.
He is accused of entering the scrap yard four previous times in April and May and he was charged with four counts of grand larceny, 4th, one count of attempted grand larceny and five counts of criminal trespass, 3rd.
Taylor was arraigned and jailed without bail.