Man allegedly with homemade grenade faces felony weapons charge
Submitted by Howard Owens on October 8, 2012 - 9:32pm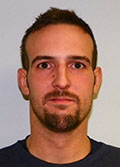 A 26-year-old Erie County resident is facing a felony weapons charge after his car was stopped in Le Roy this morning and a home made grenade was allegedly found in the trunk of his vehicle.
Paul R. Kaiser, of 12335 Bullis Road, East Aurora, reportedly consented to the search after a Le Roy PD officer informed Kaiser he believed he smelled marijuana coming from the vehicle.
Kaiser was initially stopped on Lake Street for allegedly speeding.
After the explosive device was discovered, Kaiser reportedly informed the officer he had made others previously.
Erie County law enforcement later conducted a search of Kaiser's residence, but the results of that search have not yet been released.
During this morning's incident, eight homes on Lake Street were evacuated and Route 19 was closed from about 6:45 a.m. to 9 a.m.
The State Police Bomb Squad was dispatched to the scene and determined the alleged explosive device was live and dangerous. It was removed to a safe location, according to Le Roy PD.
Kaiser was charged with one count of criminal possession of a weapon, 1st, a Class B felony, one count of unlawful possession of marijuana, speeding, driving with a suspended license and uninspected motor vehicle.
Assisting Le Roy PD at the scene and with the investigation were State Police, Erie County Sheriff's Office, Le Roy Fire Department, Le Roy Ambulance Service, the District Attorney's Office and the Federal Bureau of Alcohol, Tobacco and Firearms (ATF).