Man accused of sexual abuse pleads not guilty, bail reduced
Submitted by Howard Owens on September 4, 2012 - 10:43am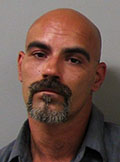 An Alabama man indicted on 28 counts of sexual abuse with alleged acts going back 13 years entered a not guilty plea and had his bail reduced in county court this morning.
Earl Francis Sprague, 42, of Church Street, Alabama, can get of jail pending further court proceedings if he can come up with $25,000 cash or secure a $50,000 bond.
He was being held on $50,000 cash or $500,000 bond.
Under a review system developed by attorneys and judges that helps determine a defendant's suitability for release under supervision or some level of bail, Sprague scored 11 points out of 20 possible.
Normally, 11 points would make Sprague eligible for supervised release. But given the possible lengthy prison term for Sprague if convicted of more than one count of the lengthy indictment, and a prior offense when Sprague was a youth, Noonan said some level of bail was appropriate to help assure Sprague's appearance at future court dates.
Attorney William Harper argued that his client had no adult criminal convictions, though he did have a probation violation in 2009 (his last previous contact with law enforcement).
Harper also said Sprague had some "dim hope" of retaining his current job if he were able to make bail, though Harper acknowledged the current accusations against Sprague diminished his chances of keeping that job.
He said, however, Sprague was considered a good employee.
District Attorney Lawrence Friedman said that while the person who conducted the bail evaluation scored Sprague at 11 points, she wouldn't have had access to Sprague's youthful offender status records. As a youthful offender, Sprague was accused of what Friedman said was charged under the former sodomy statute at the time and convicted of sexual abuse. That was in 1986.
"That is a relevant factor," Friedman said. "He also expressed a use of alcohol and marijuana."
Friedman requested no modification in the bail status for Sprague.
Noonan noted that if Sprague is convicted of multiple counts of the indictment, he would face possible consecutive prison terms on each count.
Sprague is accused of sexually abusing a single child victim over a period of years starting in 1999.