Local Royal Rangers compete in Marine Corps Marathon
Submitted by Howard Owens on October 31, 2012 - 8:56am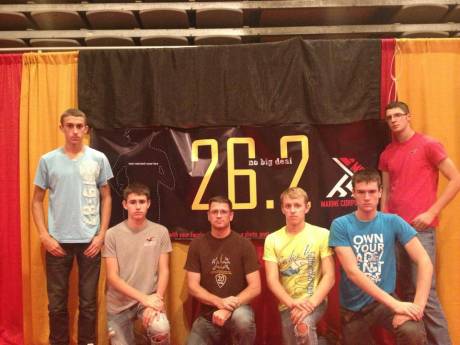 Submitted by Todd Crossett:
On Oct. 28, Alexander Crossett, 15, Timothy Martin, 16, Jacob Richardson, 18, Jaden Ohlson, 18, and Donald Ohlson, 16, completed the Marine Corps Marathon. The boys are part of a boys' mentoring group called the Royal Rangers. They were running the marathon to raise money to send underprivileged boys to camp.
The journey started two years ago when two leaders of the group ran the Buffalo Marathon to raise money for Royal Rangers. The boys said that some day they wanted complete the marathon for Rangers. Last year the boys completed the Rochester Half-marathon. In June, the boys began training for the marathon that they would run in October. Todd Crossett, one of the leaders who ran the marathon two years ago, ran with the boys during the training. They all ran over 400 miles and put in more than 60 hours of running.
If you would like to show your support for these boys and would like to give to the Royal Rangers, you can send a check to the Batavia Assembly of God and mark "Marathon" in the memo section. The address is 24 N. Spruce St., Batavia, NY, 14020.
You can also go to bataviaassemblyofgod.com and go to "giving."
Pictured from left are Donald Ohlson, Alexander Crossett, Todd Crossett, Jaden Ohlson, Timothy Martin and Jacob Richardson.