Local quilt artists display their work at Blue Pearl Yoga
Submitted by Howard Owens on September 23, 2013 - 12:15pm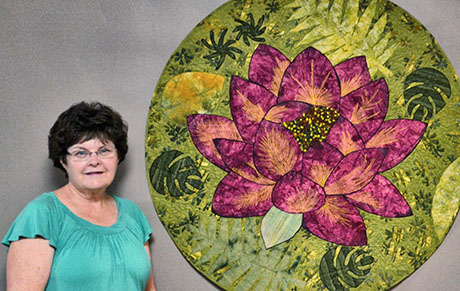 Submitted by Patricia Hawley:
A group of local fiber artists have gathered at Blue Pearl Yoga to show their work. "Mandala Quilts" features 10 pieces based on the Mandala -- a spiritual representing the wholeness of the Universe. The basic form of most mandalas is a square with four gates containing a circle with a center point. The show hangs through mid-November.
ArtCGirlz started about eight years ago when members of the Museum Quilt Guild began a niche group concentrating on Art Quilts. While every quilt tells a story, art quilts differ in that "they are meant to hang on a wall as art," says member Martha Lorshbaugh. Her quilt, "Zendala Mandala," incorporates intricate stitching using fushia-colored thread. According to organizer Elaine Ross, "Art quilters rarely follow a strict pattern. We love to change things around." Many of the quilts contain embellishments like beads, sequins, buttons and embroidery.
The 11-member ArtCGirlz's meet the second Tuesday of each month; the location varies so check out their blog at ArtCGirlz.blogspot.com. To view the show, visit the gallery at Blue Pearl Yoga, 200 E. Main St., third floor, in Batavia. The gallery is open during class times; call ahead for details or check their Web site at www.bp-yoga.com or find them on Facebook at Blue Pearl Yoga. Admission is free.
Top photo: Mary Ellen Casey.