Local history buff now officially in charge at Holland Land Office Museum
Submitted by Howard Owens on July 1, 2011 - 2:55pm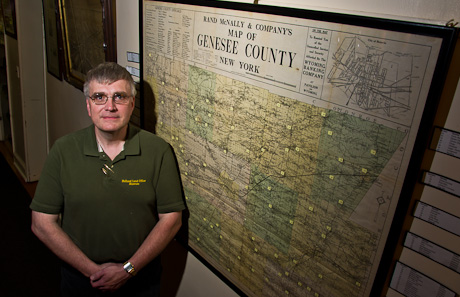 Jeffrey Donahue, who spent more than 35 years working in local media, has been named full-time director of the Holland Land Office Museum.
Donahue has been serving in that capacity on an interim basis for several months. The HLOM board approved his permanent position earlier this week.
For anybody who has visited the museum recently and had the good fortune to have Donahue provide the museum tour, it's clear Donahue knows local history thoroughly and is passionate about it.
"I always say history is like producing a television show," said Donahue, who worked for 25 years as a producer, editor and photographer for the Batavia cable channel. "People come into the museum expecting to be told a story, a story of history, and that's what you do in television. You tell a story."
Donahue also spent 10 years with WBTA.
Bob Turk, president of the HLOM board, said the board is confident Donahue will continue to be a real asset to the museum.
"We are very pleased that Jeffrey accepted the position," Turk said. "Not only does Jeffrey posses a great knowledge of local history but also has the vision to move the museum forward."
You go Junkyard Dawg.....LOL