Local business now selling emergency underground shelters
Submitted by Howard Owens on February 15, 2013 - 5:10pm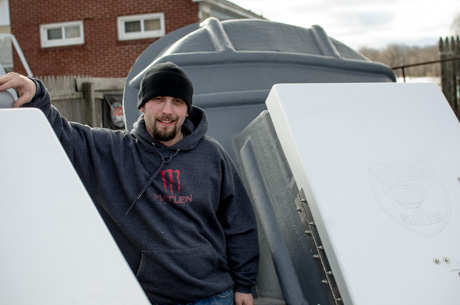 Some people call them storm shelters, others fallout shelters, or bug-out rooms or bunkers.
Nate Fix thinks you should just call them "peace of mind."
Fix is now a distributor of underground shelters built by Kentucky-based Storm Shield.
The shelters come fully assembled, ready to drop right in a big hole in the ground and come in sizes that can handle from four to 21 people in a short-term emergency event.
"The shelters meet all of FEMA's standards," Fix said. "FEMA says the best place to be during a storm is underground."
There have been 20 tornadoes reported in Western New York since 1950, and with changing weather patterns, some people might want to prepare for more.
The shelters may also appeal to people worried about changing political winds.
There's even people, Fix noted, who just might like the shelters as extra storage.
"They make excellent cold food storage units," Fix said.
The shelters are watertight and, unlike concrete or steel shelters, the fiberglass bodies will last a lifetime, Fix said.
He said his company -- Rebel Storm Shelters -- is the only distributor for these units within an 800-mile radius.
Fix has three contractors ready to help residents install the shelters.