Legislature looking for help in defraying costs of up-to-date aerial photos
Submitted by Howard Owens on June 7, 2012 - 9:04am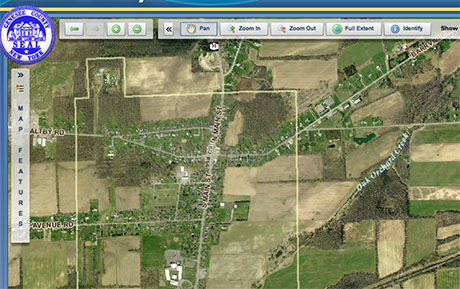 Assessors in Genesee County say the county's online GIS Map is an essential part of their jobs and up-to-date aerial photos are needed to help them correctly evaluate properties.
The county assessors' association sent a letter to the local legislature recently asking that the county continue to fund aerial flyovers on at least an every-three-year basis to keep the maps up to date.
The problem for the county in tight budget times: The cost is at least more than $65,000 and a nine-year plan would cost a total of $301,000.
The cost would increase significantly if the flyovers took place every two years, providing more up-to-date information.
On Wednesday, the Ways and Means Committee agreed to send a letter to the assessors and inquire if the towns, villages and city that are asking to continue the service will help pay for the service.
In their letter, the assessors said the aerial photos help determine land classifications.
"It is used to view the overall imagery of a parcel that is not available to view from the right of way," they wrote. "Outdated imagery makes it much more difficult to see any changes that may have occurred to a piece of property ... aerial imagery helps in discovering improvements to a piece of property that otherwise would not have a value."
June 7, 2012 - 10:32am
#3
Matt, that was my first thought when I read this! With all the satellite imagery out there this just doesn't make sense!