Le Roy seals the deal on successful regular season with 19-12 win over biggest rival
Submitted by Howard Owens on October 13, 2012 - 12:02pm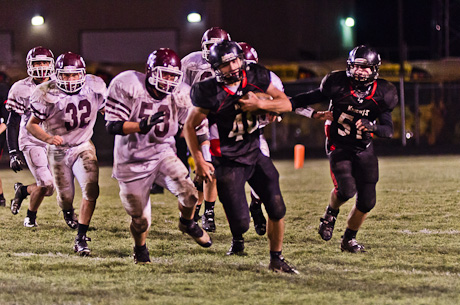 Tie game, the 80th meeting of Cal-Mum and Le Roy, and a coach on the side lines yells, "Just give it to Mistersaro."
During the next drive, Marcus Mistersaro's #40 was called at least four times and the senior who is listed on the roster as a tight end, gained most of the 95 yards he had on the night in those carries.
With runs of 28 and 31 yards, Mistersaro helped set up a three-yard push by Tom Kelso with 39 seconds left in the game to give the Oatkan Knights a 19-12 win.
The loss for the Red Raiders (4-3) knocks Cal Mum out of the playoff picture for the first time in a long, long time.
The Knights (6-1) were already guaranteed a first game at home for the Section V Class C tournament.
After the game, Head Coach Brian Moran praised Mistersaro's work ethic.
"There's a perfect example of a young man who spent his winter in the weight room and it showed in the 4th quarter," Moran said. "He just dominated the 4th quarter.
"There was a young man who put the weight of the team on his shoulders and said, 'we're not going to lose tonight,' " Moran added.
It was a big deal, Mistersaro said, to be given a chance to make a contribution in a big game.
"It means a lot," Mistersaro said. "It's 12-12 against Cal-Mum. You just kind of have to step it up."
For senior outside linebacker Archie Cappotelli the win was special on a couple of levels. One, his family is from Cal-Mum. Two, it's the first time senior players from Le Roy experienced a win against the Red Raiders.
"It means a lot to the whole team," Cappotelli said. "We've all been working hard since the beginning of August and even before that in the weight room."
The 6-1 record, Cappotelli said, proves what the players knew even before the season started. This is a good football team.
"Everybody was down on us at the beginning of the season, but we've been showing them," Cappotelli said. "We can play. We're for real. We're ready to go for sectionals now. This game is going to feel good for tonight, but next week we've got to focus and get ready for our next team."
You knew this was going to be a hard-fought game when the first quarter ended without a score from either side.
Cal-Mum got on the board first with a two-yard run by Kurtis Haut, but failed its two-point conversion attempt.
Le Roy struck back on the next drive when QB Mike McMullen hooked up with Ryan McQuillen on a 53-yard pass. A Dylan Johnson extra point made the score 7-6.
The Red Raiders opened the second half with a TD drive capped by Haut's one-yard dive into the end zone.
But the Knights didn't get down, Cappotelli said.
"We never gave up," Cappotelli said. "This team is like a big family. We're all good, ready to go. We knew we were going to win."
A safety later in the quarter made the score 12-9, setting up a big decision in the fourth quarter when Le Roy was near its own end zone on 4th down with four yards needed for a first down.
At first, Moran sent out the offensive unit, ready to go for it, but as the Knights lined up for a play, Moran called time out.
Thomas took the field and kicked the ball through the up-rights to tie the game.
"12-12 is 12-12," Moran said. "If we tie it up, we extend the game. Dylan did a great job for us tonight."
Moran was excited about the win and his players. After a big stop at the close of the first half when a Cal-Mum drive stalled one the one yard line, Moran charged onto the field pumping both fists, congratulating his players.
He was just as excited when time ran out and the win was secured.
"These games are always big," Moran said. "Caledonia is six miles down the street. Any time you play them, it's a big game. It's great for our communities, and that's what it's about. High school football. These kids know each other and they talk all the time. It's just nice to get together."
He's also proud of his team's 6-1 record going into sectionals. He said this team has been special.
"It's enjoyable when you come to practice and kids are ready to work hard," Moran said. "When you have young men who want to learn and do the things you ask them to do, it's just a pleasure to coach them. You know, they've done the things we've asked and it's shown on the field."
In the game, besides Mistersaro's 95 yards on eight carries, Kelso had 16 yards on 16 carries and one TD. Dylan Johnson had four rushes for 10 yards. McMullen was 2-8 for 53 yards and was intercepted twice.
On defense: Kody Lamkin, 10 tackles, 1 for loss, 1 pass breakup; Zack Fitszimmons, 10 tackles, 1.5 for loss; Cappotelli, 9 tackles, .5 for loss; Kelso, 9 tackles, 1.5 for loss; Mistersaro, 5 tackles; Sean McMullen, 5 tackles; Alex Dunn, 4 tackles, 2 pass breakups; McQuillen, 3 tackles, 1 interception.
In other Friday night action:
Holley beat Oakfield-Alabama 36-0
Alexander beat Pembroke 42-6
No stats are available for these games.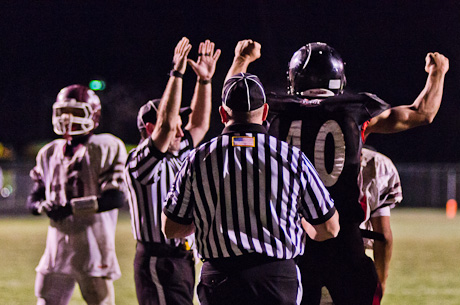 If you're unable to view the slide show below, click here. To purchase prints of these photos, click here.
October 13, 2012 - 9:58pm
#2
GREAT JOB LEROY!!!!!!!!!! Sorry Bruce and Christine.