Le Roy falls short of undefeated season with 34-29 loss to rival Cal-Mum
Submitted by Howard Owens on October 19, 2013 - 8:26am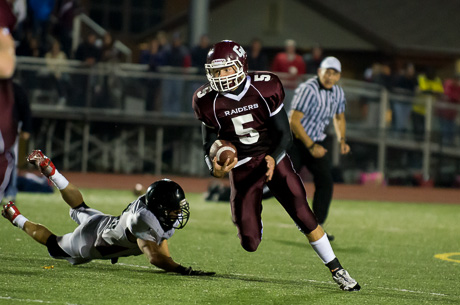 Friday night, under the bright lights of Hamilton Field, a clash of two historic rivals, the Oatka Knights of Le Roy and the Red Raiders of Caledonia-Mumford, was once again its own kind of Fall Classic.
The game was a back-and-forth battle between two well-stocked teams already guaranteed slots in sectional play. It was a fight to the end with the outcome uncertain until the Knights final drive stalled with 30 seconds left on the clock.
Only then, were the Raiders (6-1) assured their six-point lead would hold for a 34-29 victory over Le Roy (6-1).
"I thought it was a great atmosphere for high school football," said Brian Moran, in his 25th season as head coach for Le Roy. "It's just great for both communities. Obviously, we hate to come out on the down side of this, but you know what, it's great for the kids, it's great for the communities and I just thought it was a great atmosphere for high school football and this is what it's about."
The player of the game was Cal-Mum senior QB Kurtis Haut, who rushed for 248 yards and three TDs on 24 carries.
Play after play, it seemed at times, Cal-Mum called QB keepers and Haut would find a hole and exploit it.
Arm tackles couldn't stop Haut who ran through defenders like they were turnstiles in a packed subway station.
Asked for the key to the game and Moran said that was it: Haut.
"Hey that five is pretty good, isn't he?" Moran said. "That's the game right there. The whole story line is him. He's a great athlete and he played a great football game tonight. They made a few more playes than we did and they deserve the win."
Le Roy played well, but not quite good enough. Moran acknowledged the Knights needed to execute a little better, make a few more plays, play better defense, make better tackles and finish off the game offensively.
"We've got to finish it that's the main thing," Moran said. "In a game like today, you've got to be able to make those plays and you've got to be able to go to the last second. I thought we had a chance late but we just didn't make the play when we needed to."
Junior QB Mike McMullen showed a lot of poise with the game on the line, getting the ball with two minutes left and bringing his team deep into Raider territory, but with a minute left on the clock, one last completed pass to advance the ball eluded the Knights' offense.
McMullen finished 18 for 33 for 192 yards and four TDs.
The knights opened the scoring with 3:56 left in the first quarter on a nine-yard pass from McMullen to Jon Pierce, who had six receptions for 86 yards and two TDs on the night.
Cal-Mum answered near the end of the quarter on a 16-yard run by Haut, and so the game went until the fourth quarter, with both sides trading scores.
In the fourth quarter, the Raiders put together the only back-to-back, unanswered scoring drives of the game and that proved pivotal in this match.
A 30-yard field goal by Pierce with 3:09 left in the 4th brought the Knights within six points and a chance for a win those final minutes.
Tom Kelso helped carry the offense with 13 carries for 102 yards. Peter Privitera had 11 carries for 27 yards and Nick Egeling gained 17 yards on five touches. Egeling also had five receptions for 48 yards.
Ryan McQuillen scored twice on four receptions for 43 yards.
On defense, Zack Fitzsimmons had seven tackles, Anthony Paladino, five, Egeling, four, Kelso, four, Lamkin, four, and Steve Cappotelli, four, and a fumble recovery.
Also on Friday night:
Alexander (6-1) beat Pembroke 41-0. Dylan Scharlau, 17 carries for 141 yards and one TD. Will Burke seven carries for 52 yeards. Tristan Alding nine touches for 75 yards. Tyler Laird scored a TD and had 25 yards on four rushes. Burke was 5 for 8 passing for 105 yards and 3 touchdowns. Sam Browne, 2 catches for 61 yards and a TD. He also had a 65 yard punt return for a score. Zach Laird had an 11-yard TD reception and Jacob Riggs had a 15-yard TD reception. Pembroke had only 49 yards total offense. Tyler Laird had seven tackles and one sack and one fumble recovery. With a share of the GR league title, it's the first time Alexander has come out on top in the division since 1977.
Elba/Byron-Bergen plays at Finney today. Oakfield-Alabama is at Holley. Batavia is at Olympia.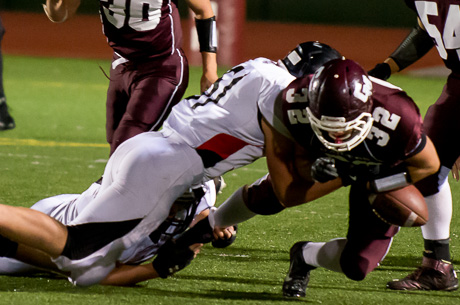 Lamkin forces a Joe Cappotelli fumble in the second quarter.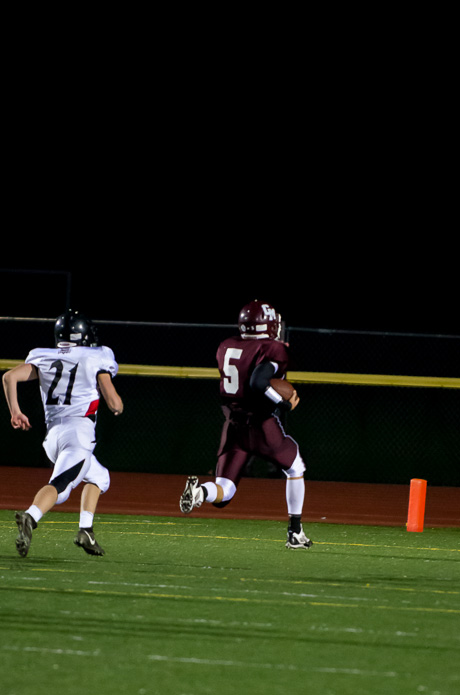 Haut scores on a 50-yard TD run late in the second quarter.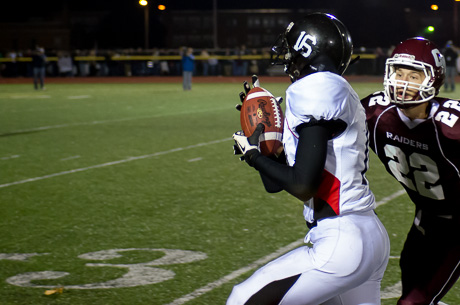 Pierce hauls in 52-yard TD pass from McCullen early in the third quarter.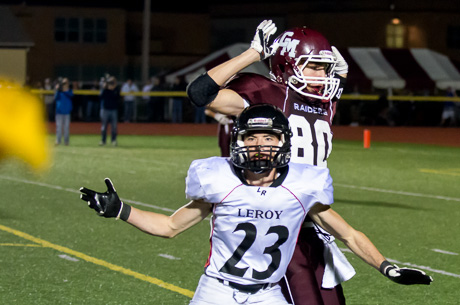 McQuillen looks for and gets a pass interference call during the Knights' final possession in the closing minutes fo the game.
To purchase prints of photos, click here.
October 19, 2013 - 9:40am
#2
Great game last night,Thanks for the coverage