Le Roy dominates Hornell to open the season with 68-14 win
Submitted by Howard Owens on September 7, 2013 - 10:22am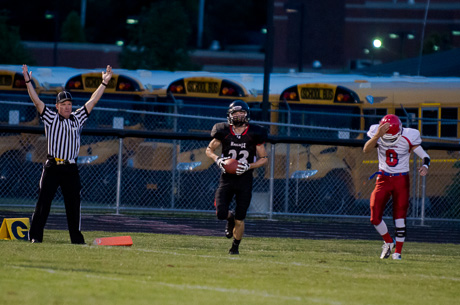 Ryan McQuillen after his 33-yard TD reception for the second score of the game against Hornell. Hornell's Andrew Cappadonia was the defender.
Coming into last night's game, Hornell was ranked #2 in Section V football and Le Roy was ranked #3 by the New York Sports Writers Association.
That's going to change.
The 68-14 final score of the season's opening game may not tell us yet how much Hornell has slipped since last season, when its 51-game winning streak was snapped by Hoosick Falls in the state championship game, but the near flawless play of the Oatkan Knights gives us a glimpse of just how special this team might be.
"It was a great performance," said Head Coach Brian Moran. "Obviously, it's only week one so we've got to practice and get better."
Hornell came into the game with only two returning starters on offense, but 21 players on the squad and a history of putting together good teams. A coaches' poll ranked Hornell #1 among the smaller schools in Section V.
"Hornell is a great football program," Moran said. "When you play them, you've got to get ready and I thought our kids mentally came prepared to play today."
Expectations were high for a battle of two stellar programs under the Friday Night Lights of the Hartwood Park field. And when Hornell stopped the Black Knights of the Oatka on the game's first drive, who would have thought differently?
As it turned out, that was the only Le Roy possession on the night that didn't result in a touchdown.
By the end of the first quarter, Hornell's fate seemed sealed. Unable to stop the Knights on defense, and stymied on offense, the Red Raiders were down 21-0 and would amass only 21 yards of offense in the first half.
For the game, Le Roy would out gain Hornell 459 yards to 137.
Peter Privitera carried the ball across the goal line twice on his way to a 110-yard game on 18 carries. QB Mike McMullen, a junior and second-year starter, was 6 of 10 passing for 174 yards and three TDs.
"I thought Mike threw very well," Moran said.
Anthony Paladino, back with the Knights after a sojourn with Notre Dame, recorded four solo tackles, forced two fumbles and carried the ball 11 yards on a goal line push in the second quarter.
It was a thrill, Paladino said, to make a contribution in a game that makes a statement about the kind of team Le Roy is this season.
"We came out to show everyone that we're here to play this year and we're ready to take on anyone," Paladino said.
The lopsided victory was a measure of redemption for Le Roy's players after last year's loss to the Red Raiders 21-7 in the Section V Class C championship game.
It was a great feeling to win a big game against a tough team the first time out for the season, Privitera said.
"We were fired up," Privitera said. "We had a whole lot of energy going. Since day one we've been ready for this game. Buckle it up. Smashmouth football. It's Le Roy. That's how we play."
While Moran understands some of his players saw Friday night's game as a chance to turn the tables on Hornell, he views the game across the arc of Le Roy vs. Hornell football history -- two top-notch programs clashing on the gridiron.
"Every year's different," Moran said. "You can't really talk about from one year to the next. I kind of just look at playing a great football program in Hornell and that was the number one thing. I know in the back of some kids' minds, that (redemption) was there, to be honest with you. They had a tough loss to a good football team last year. I thought they did the things in the off season in the weight room to get themselves ready and focused. Tonight, I thought it showed."
With the game well in hand in the fourth quarter, Moran pulled many of his starters and gave his second string a chance to get some snaps.
A strong bench helps win championships and the non-starters came up big against Hornell.
Jake Henry had his first carries on varsity and gained 84 yards and scored a touchdown.
Brian Hodges took over at QB and kept the offense moving as Le Roy scored on runs by Henry and Nick Egeling.
Egeling, Henry and Chandler Winling all impressed Moran, he said, both with their second half play and their first half on defense.
"I thought our second group played very," Moran said. "We focused on that this week. We didn't know we would get to our second group today, but they played very well and I'm impressed with that."
The Knights big offensive and defensive lines had a lot to do with Le Roy being able to dominate the way they did, Moran said.
"Obviously, you're only as good as those two areas," Moran said. "The offensive line especially. I thought today they got off the ball very well. I thought they played together very well as a unit."
The Oatkan Knights have a lot of weapons to throw at even a good team.
"It makes it difficult on a defense when you've got John Pierce on one side and Ryan McQuillen on the other," Moran said. "Those guys can obviously score from anywhere on the field. You really have to think about them and that frees us up to do some things offensively."
Additional stats for the game: Tom Kelso carried the ball eight times for 43 yards and two TDs. He also had one catch for 16 yards. Pierce had two receptions for 77 yards and two TDs. McQuillen had two receptions for 51 yards and one TD.
On defense, Kody Lampkin had three tackles, two for losses and one sack and one fumble recovery. Steve Cappotelli had five tackles. Wingling had six tackles. Kelso, three tackles and Egeling had three tackles. Henry had seven tackles.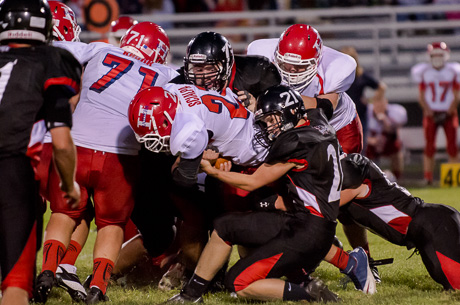 Paladino and Henry pull down Hornell's Jason Scialpa.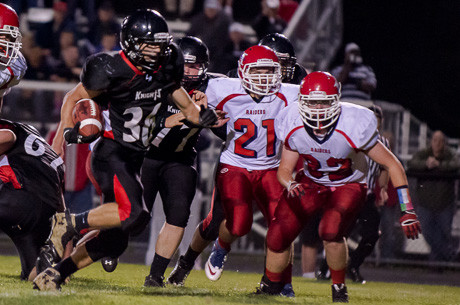 Privitera finds yet another big hole.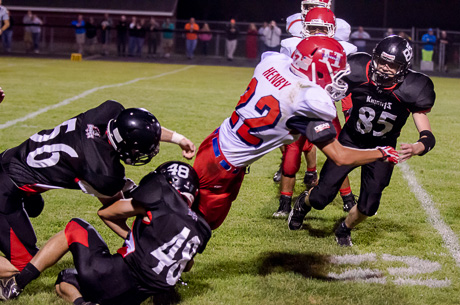 Hornell's Jake Henby brought down on a kickoff return.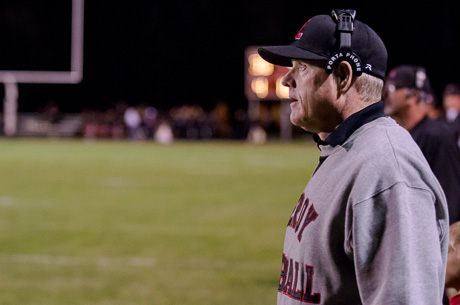 Head Coach Brian Moran.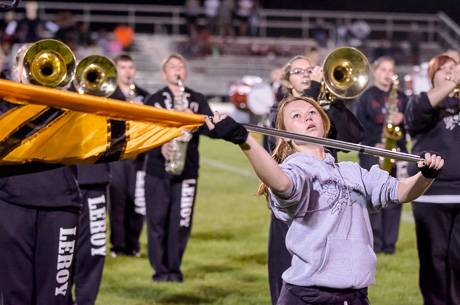 Le Roy's Marching Band always puts on a theatrical performance at halftime.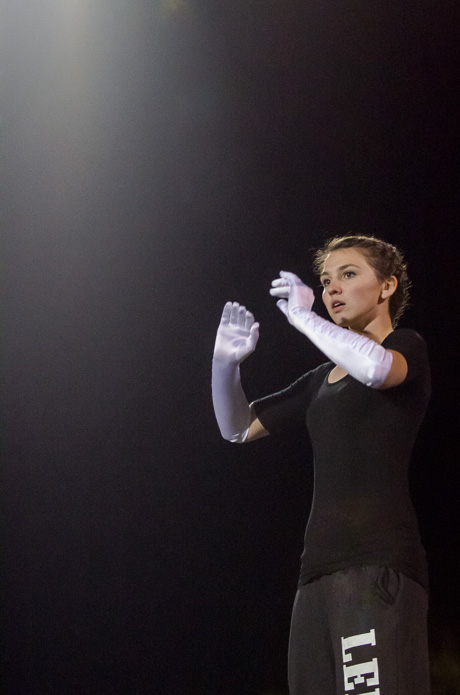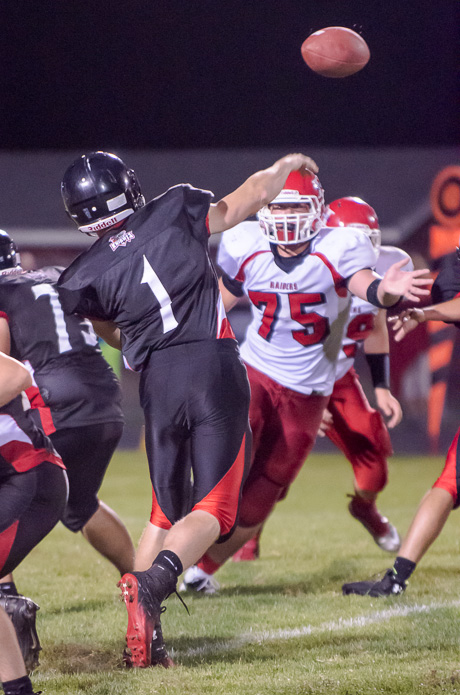 QB Mike McMullen.
Henry with another big run in the fourth quarter.
To purchase prints of photos, click here.