Laurie Call and teammates stifle Section VI's top scorer to stomp Sherman in Far West game
Submitted by Howard Owens on March 10, 2013 - 7:31pm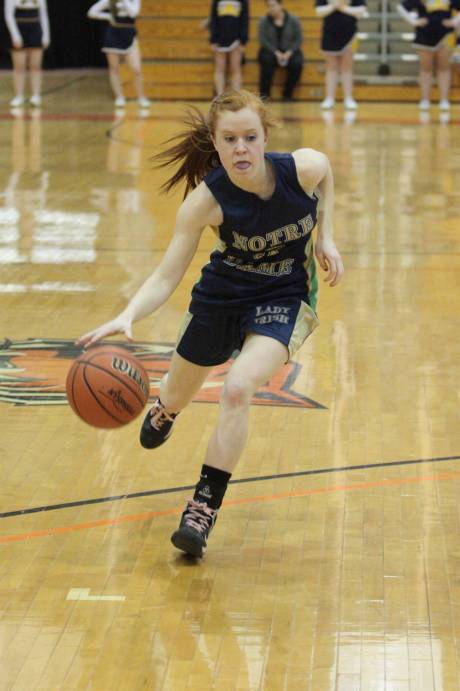 The other basketball hero to come out of Genesee County Saturday was Laurie Call.
Call was given the job of guarding Sherman's Elle Reed, the top scorer Class D Section VI, who averaged 32 points a game coming the Far West Regional Championship game.
Reed was held to 19 points in the contest, and fouled out with more two minutes remaining in the game.
Notre Dame beat Sherman 70-32.
"This wasn't the team we scouted," Sherman's head coach, Mel Swanson, told the Jamestown Post-Standard.
By Swanson's estimation, the Notre Dame girls were much more proficient with three-point jumpers, which helped the Fighting Irish jump out to a quick 20-4 first quarter lead.
Melanie Taylor scored 24 points and Riley Norton added 14 and Emma Francis, 9.
Swanson also expressed some frustration with playing against a private school, which is something Setion VI teams don't face until they match up against Section V.
''It is tough. It's an inequality. Their players played hard and they were very good players and they did great things with the basketball. But when you're a small school like ours that graduates 30-something kids and you have to compete at that level It's just such a different field they get to draw from. .... "
Notre Dame enters the Final Four state championship round ranked #5 in the state and will square off against #2 ranked Fort Edward at 10:45 a.m., Saturday, at Hudson Valley Community College.
PHOTOS: By Bare Antolos. Click on the headline to see more photos after the jump.