Lancers launch 2012 campaign with 40-13 win over Alexander
Submitted by Howard Owens on September 2, 2012 - 11:15am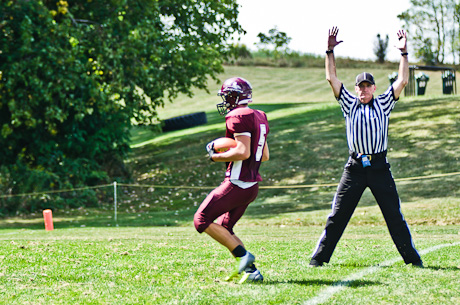 On the legs of Zach DuBois and the arm of Zac Gillard, Elba/Byron-Bergen opened the 2012 football season in dominating fashion with a 40-13 win over Alexander.
The Lancers, who advanced as far as a semi-final game last season, look like a contender again this season.
Dubois, coming off an impressive 2011 campaign, picked up where he left off, rushing for 223 yards on 16 carries, running the ball for TDs of 24 yards, 75 yards and three yards.
Gillard had seven completions on 12 attempts for 133 yards, which included TD passes of 40 yards and 35 yards.
"A lot of people had us written off because of what we graduated on our offensive line," said Lancer Head Coach Michael Cintorino. "I think these new guys stepped and filled that position and did a nice job today."
Injuries played a key role in the game for Alexander. Already hammered by the loss for the season of standout Mark Farnsworth, four Trojans were knocked out of Saturday's game, including the team's two tight ends and two linebackers.
"I had my starting quarterback playing outside linebacker," Tim Sawyer said. "He's a free safety and I cringe at that."
Sawyer, who coached the squad from 2000 to 2007, is the Trojan's third head coach in three years.
Still, Alexander scored first and looked strong in the first half, playing physical, disciplined football, and Nelson Burke's two TD passes, including one to Zach Laird, showed the team is not without resources.
Sawyer didn't want to make excuses of injuries, a young team (only six seniors, and three of them are first-year football players), or even the weather. He said the Lancers are a good team and the game was a good learning experience for his players.
"I thought we played hard and we competed hard," Sawyer said. "We need to go to another level now. I think our kids now realize that varsity football is one step tougher. There's more expectations on these kids. We'll get better. It's learning."
Cintorino said Alexander played a tough game and it showed his team also has some learning to do if they're going to compete for a playoff spot in the tough Genesee Region.
There were some defensive mistakes in the first half, Cintorino said, but players stepped it up in the second half and did what they needed to do, which is do their jobs.
"We've been talking this year, just come out and do your job," Cintorino said. "Do your one-eleventh and we'll be OK. In the first half, we were a little bit sleepy. We didn't necessarily do that. We were focused on making the big play."
Of course, with a running back like DuBois, the Lancers are going to play any team tough this season.
"Zach is a special kid," Cintorino said. "He's a blast to coach. He's a polite kid, a nice kid, a humble kid, and he runs the ball very, very well. He's very talented, and he has lot of help from up front."
With traditionally strong teams from Attica, Notre Dame, Pembroke and Holley, and well-coached, rebuilding teams from Alexander and Oakfield-Alabama, the GR league will present another tough challenge in 2012, Cintorino said.
"I always say GR is kind of a hidden gem in Section V," Cintorino said. "We've got some great teams. We've got some great kids in the whole Genesee Region, very good athletes, tough, strong kids, and they do a nice job, and we've got some coaching staffs that really prepare their kids well."
Also in Saturday's game, Kyle Morse had three receptions for 63 yards and one TD.
For Alexander, Burke completed five passes on 10 attempts for 53 yards and two TDs. Laird had two receptions for 25 yards and one TD. Sam Brown had one reception for 23 yards and one TD.
Defensive stats for the Lancers, Andy Underhill had 17 tackles, including three for a loss and one forced fumble. Nate Jonathan had 10 tackles, including three for a loss and two-and-a-half sacks. Garrett Chapell had five tackles and a fumble recovery. Austin Hynes-Fisher had three tackles and half a sack. Kyle Dougherty had five tackles, one sack and one interception.
In other local football this weekend:
Attica rolled to a 52-0 win over Oakfield-Alabama.
Le Roy crushed Genesee 74-6. Tom Kelso carried the ball three times for three TD and 86 yards total rushing. Jon Pierce had 87 yards rushing on four carries and two touchdowns.
Batavia beat Bath 34-24. QB Brett Scheuerlein completed 10 passes on 15 attempts for 201 yards. Justin Washington scored two TDs on two receptions for 55 total yards. Brandon Stevenson carried the ball 14 times for 67 yards and a touchdown.
Notre Dame turned a half-time deficit into a 30-29 win over Holley.
Pembroke dropped its opener to Finney 30-12. Tyler Brunning and Jacob Patterson both scored for Pembroke.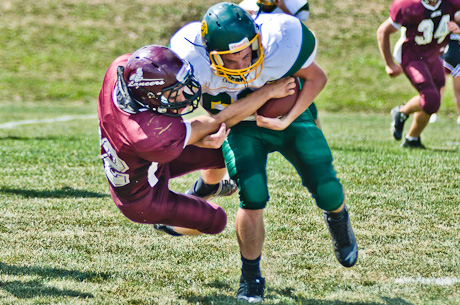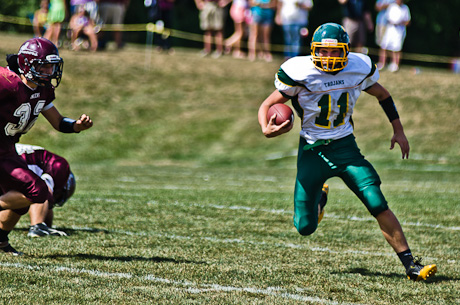 If you can't view the slide show below, click here. To purchase print copies of these photos, click here.