Lady Devils run out of gas in fourth period against Mendon
Submitted by Howard Owens on December 7, 2013 - 2:48pm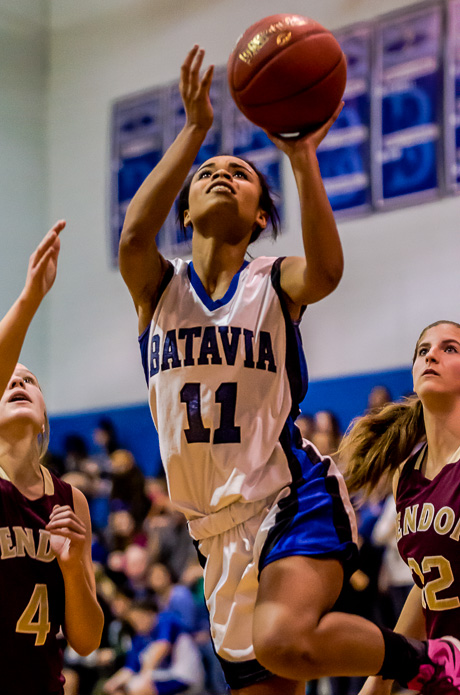 Mendon has always presented a challenge for the Batavia High School girls basketball team, often over the years snatching double-digit victories over the Lady Devils, which was why Head Coach Marty Hein put the Vikings on the schedule early in the season.
It was a chance for Hein to see where his team stood.
The verdict? Not really different from what he said about his team in the pre-season: The Lady Devils lack bench depth and until the younger players step up their game, Batavia will struggle against teams that can rotate seven or eight players.
"Some of the girls will understand that we've got to work hard and work our way to having a deep bench like Mendon does," Hein said. "Hopefully, we'll be there by mid-season."
To start the game, the Lady Devils looked like the dominate team and held a lead until just about a minute left in the second period, and even through most of the third period, Batavia kept the game within a basket or two.
Then the wheels came off. The plays didn't run as smoothly, the passes weren't as crisp, if not higher risk, and the steals came easier for the Vikings.
"Todd's (Todd Julien) a very smart coach," Hein said. "He didn't use any time-outs (in) quarters one, two and three because he didn't give any opportunity for my girls to get a rest. He knew the longer I kept my starters on the floor, the sooner they were going to wear out."
The final score: Mendon 43, Batavia 36.
Sam Cecere led Batavia in scoring with 14 points. Mendon's Darby Kreienberg presented a challenge for the Lady Devils. She scored 26 points.
Maddie McCulley, who hit a clutch three late in the second period just when it looked like the Vikings might be poised to pull away, suffered what appeared to be an ankle or foot injury early in the third period. She returned to the game a few minutes later and Hein said she'll be fine.
"When we play one-three-one she's down at the bottom with some giants so she takes a beating sometimes," Hein said.
Top photo: Essence Williams drives for a successful layup.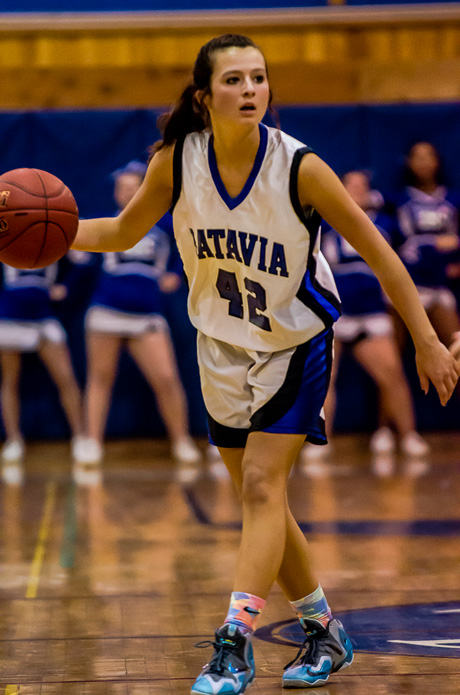 Maddie McCulley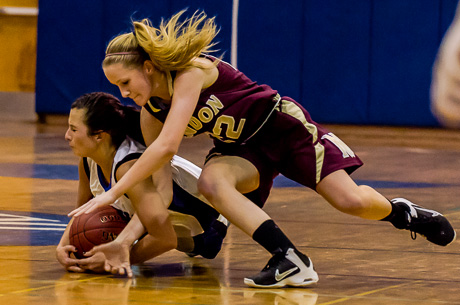 McCulley and Alley Phillips scramble for a loose ball.
To purchase prints of photos, click here.