Labyrinth walk Sunday will celebrate Fall Equinox
Submitted by Howard Owens on September 20, 2013 - 12:27pm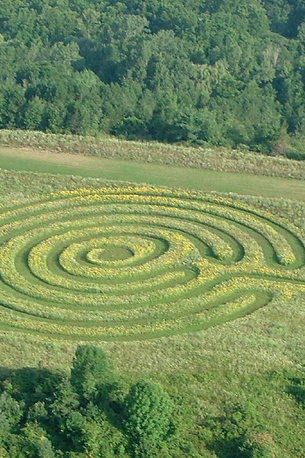 Area residents are invited to walk through a labyrinth on the property of Tricia Zdep, 6600 Log City Road, Elba, on Sunday as part of a harvest celebration for the Fall Equinox sponsored by Blue Pearl Yoga.
Labyrinths -- a complex series of winding paths that require walkers to follow a serpentine trail -- have been an important spiritual part of many cultures for thousands of years, said Patricia Hawley.
"Walking through one is a powerful meditative and contemplative act," she said.
The word "equinox" is derived from the Latin aequus (equal) and nox (night) and signifies a time when night and day are about equal length.
The term can also be used in a broader sense, meaning that the universe is in perfect balance, said Karen Reisdorf, owner of Blue Pearl Yoga
"At this time we concentrate on balancing our spirits, harvesting our dreams, and giving thanks for the beauty and bounties of Mother Earth," Reisdorf said.
The walk is at 1 p.m. and participants are asked to bring a gift from nature (leaf, flower, feather, stone, etc.) and any vegetables or flowers that have been harvested from your garden or from a farmers market. The event includes:
Blessing of the harvest, offerings of gratitude;
Yoga practice, planting new intentions;
Ending meditation;
Sharing of the harvest.
Leading the event with Reisdorf is Joni Yaskulski.
The labyrinth was made by Zdep and her husband at least five years ago (see it on Google Maps).
Pre-registration is required. Cost is $15. For more information contact Blue Pearl Yoga at 585-230-5430 or email bluepearl.yoga@yahoo.com.