Jay E. Potter Lumber starts program designed to benefit volunteer firefighters and their departments
Submitted by Howard Owens on December 2, 2013 - 7:38pm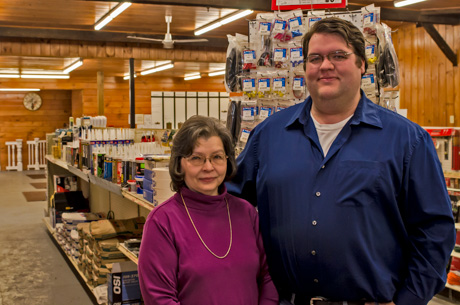 Volunteer fire departments do so much for our community. Thomas Dix and his mother, Mary, owners of Jay E. Potter Lumber Co. in Corfu and Le Roy, thought it was time the family business gave back.
Last week, they announced a program that provides discounts to volunteer firefighters and rebates for designated purchases to local fire departments.
"We're looking to help the local fire departments with funding and give people incentive to join and move up the ranks," Thomas Dix said. "The volunteers have a lot of time invested. These guys are required to go through hours and hours of training and they've got to devote a lot time to it and there's no pay for it."
Here's how the program works:
Basic firefighter, 7-percent discount on all purchases and 2 percent of the purchase price goes back to your fire department (checks get cut quarterly)
Firefighters who have completed interior training or EMS training get a 10-percent discount and 2 percent goes back to the fire department.
Line officers (chiefs, captains, lieutenants) get free delivery on supplies for projects, 10-percent off and 2 percent goes back to the fire department.
Non-volunteers don't get a discount, but they can join the program and designate a fire department to receive 2 percent of their purchase.
Dix said he isn't aware of any other locally owned business offering a similar program, but he's hoping others will pick up the idea and implement it themselves.
Potter Lumber Co. is located on Maple Avenue in Corfu and on Mill Street in Le Roy.
To find out more about becoming a volunteer with your local department, visit ReadyGenesee.com.
December 3, 2013 - 12:56pm
#2
Wow. Thats a great incentive. And its much appreciated. I especially like the last part.