HLOM acquires painting by local artist that depicts a bit of Batavia's lost history
Submitted by Howard Owens on August 11, 2011 - 3:51pm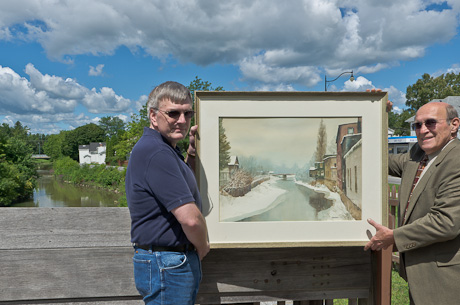 The Holland Land Office Museum has acquired a painting by Richard Wright Ware that depicts a bit of West Main Street and the Tonawanda Creek that no longer exists.
Sometime in the late 1950s or '60s, the Batavia native painted the picture showing a view from the Walnut Street Bridge -- which was a traffic bridge then -- looking west down the Tonawanda with the former commercial buildings of West Main Street depicted on the right.
Those buildings would eventually be demolished, and the Walnut Street bridge converted for pedestrian use. That stretch of Main Street is now a grassy, tree-lined area.
County Clerk Don Read, at right, who serves on the HLOM board, acquired the picture at an auction and paid $600 for it.
Ware, known for his landscapes around Batavia and Naples, gained some regional acclaim and held shows locally in Rochester and the Finger Lakes.
"We like to have representative works of local artists," Read said.
The work, Read said, can be combined with photos HLOM has of that section of Batavia, to give museum visitors an idea of what the area was once like.
Executive Director Jeff Donahue said HLOM is always looking for artifacts that help tell the story of Genesee County and he said he would welcome tips from local residents on anything that might become available. It's important, he said, to ensure items of local historical importance are preserved.
The painting is already on display at HLOM.
August 11, 2011 - 7:05pm
#2
Jeff, if you haven't already done so, I would recommend you call Todd Jantzi at Bontragers along with our other local Auctioneers and have them keep an eye out for such items.