Heavy, wet snow falling; winter storm warning still in effect through Saturday morning
Submitted by Howard Owens on February 8, 2013 - 3:43pm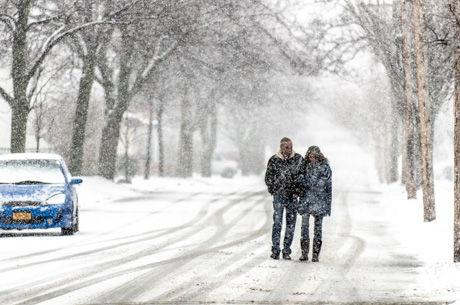 Batavia is getting a blanket of heavy, wet snow.
The weather service says to expect lake effect snow at about the rate of an inch an hour for the next couple of hours.
However, the radar maps indicate the heaviest of the snowfall may already have passed.
Roads are slick and a few accidents have been reported in Genesee County.
A winter storm warning remains in effect through Saturday morning.
Batavia City Schools announced that all of this afternoon's and this evening's events -- including sports -- have been canceled because of the weather.
UPDATE 3:48 p.m.: Just received this: "Due to weather conditions,The Genesee Chorale has rescheduled tonight's performance for tomorrow night. The concert will be held at St. James Church on Saturday, February 8 at 7 p.m. Tickets will be available at the door for those who have not yet purchased them."