Hawley meets high wire walker in Albany
Submitted by Howard Owens on March 23, 2012 - 11:34am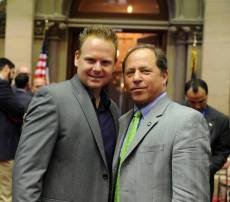 Press release:
Assemblyman Steve Hawley (R,I,C-Batavia) recently met with daredevil Nik Wallenda at the state Capitol. Wallenda is set to walk on a high wire across the Niagara Falls Gorge, beginning on the American side of the border and ending in Canada. Hawley, who voted in favor of legislation allowing Wallenda's plan, spoke with the stuntman about preparing for the feat and the impact it will have on Western New York.
"The bright lights of international media will be shining on Western New York when Nik Wallenda walks on a high wire across Niagara Falls," Hawley said. "The event will give the area an economic boost, and will put all our region has to offer in the spotlight. Nik has shown hard work and perseverance in both his training and his efforts to gain legislative approval for his stunt, and I, for one, can't wait to see him dance across the falls."
March 23, 2012 - 4:13pm
#3
Jeff, it is up to us to make sure that Batavia and Genesee Co. are recognized and touted when Buffalo/Niagara Falls or Rochester has an event.
We recently had this discussion on this board. There are some who will say that our area doesn't have attractions that will pull people away from the major cities.
It is fighting an uphill battle. I know, I'm working on a project where I am insisting that our area get the recognition and hopefully some of the economic boost.