GCEDC staff in San Francisco promoting STAMP
Submitted by Howard Owens on July 9, 2013 - 8:40pm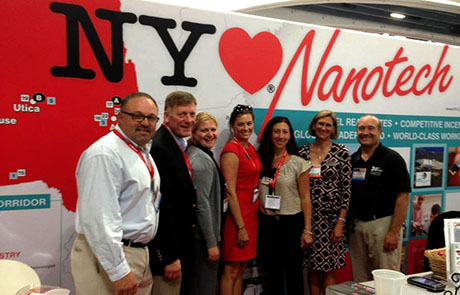 This week, staff members of the Genesee County Economic Development Center are at SEMICON West, the largest trade show globally for the semiconductor industry, held at the Mascone Center in San Francisco.
The staff is there to promote WNY STAMP, the high-tech/nano-tech industrial park in the Town of Alabama that GCEDC hopes will some day be home to at least one large technology company employing thousands of people.
Joining the GCEDC staff are representatives from Greater Rochester Enterprise, Buffalo Niagara Enterprise, Rochester Institute of Technology, and the University at Buffalo.
The photo is from GCEDC's Facebook page. At left is Chris Suozzi and second from left is Rachael Tabelski. IDs are not provided on the other people in the picture.
Actually Bob, I believe this comes out of that one percent they rake in on each project. At this point, if they didn't go out and promote the project I would be worried because that would mean all that has already been spent would be money down the toilet.