Fundraiser on Saturday to benefit family of Bergen woman seriously injured in accident
Submitted by Howard Owens on October 24, 2011 - 5:14pm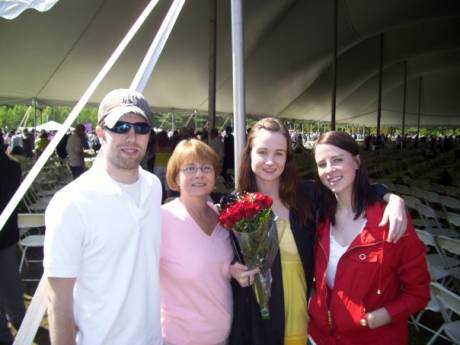 A 55-year-old Bergen woman who was seriously injured Sept. 30 when a car she was driving was struck by a semi-trailer carrying gravel may need long-term care and rehabilitation, according to her daughter.
Patty Ireland is out of intensive care at Strong Memorial Hospital, but does not recognize people or things, according to Katie Ireland.
"She's improved immensely," Katie said. "We'll have to wait and see how her brain heals itself."
The mother of three children, all now in their 20s, worked at Geneseo College.
Besides the head trauma, Patty suffered other relatively minor injuries -- fractured ribs and some cuts, but the brain injury is the big unknown for the Ireland family.
Katie said they are unsure how long and to what degree Patty will need care and rehabilitation.
From Strong, Patty will be moved to Monroe Community Hospital, then St. Mary's for further rehabilitation and eventually home. The family doesn't yet know if Patty will need 24/7 in-home care or not, or if she does, for how long.
"It's such a long road, it's hard to say exactly what we will need," Katie said.
Friends and neighbors in Bergen have organized a fundraiser for the Ireland family to help with whatever needs may yet arise.
The fundraiser is a spaghetti dinner and raffles from 6 to 9 p.m. this Saturday, Oct. 29, at St. Brigid Church Hall in Bergen. For more information, click here.
Photo: Jimmy, Beth and Katie with their mother Patty. Submitted by Katie. Katie wanted us to include how grateful the entire family is for the outpouring of community support.
October 24, 2011 - 8:27pm
#2
Always good when friends, neighbors, and community come together to someone's aid when in need.
October 24, 2011 - 10:29pm
#3
This is a wonderful family...lots of prayers!!! SHow your support at this fundraiser.
October 25, 2011 - 12:32pm
#4
Just want to say thank you and Billy for doing the beautiful article on the Ireland family, Erik and Jim are good friends, both Katie and Jim have worked for the Days Inn while they were in high school, the Ireland family is in our thoughts and prayers, and we wish that you have a successful fundraiser.