Fire in Pavilion destroys house and former recording studio
Submitted by Howard Owens on October 9, 2013 - 9:05pm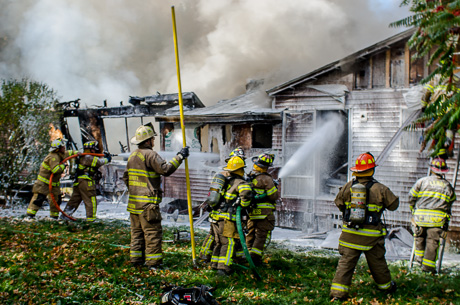 Jim Bearce said he always worried about fire. He and his brother kept several fire extinguishers around their house at 7635 Telephone Road, Pavilion, just in case.
The extinguishers proved inadequate today for a fire that swept through their home at 2:30 p.m. With smoke filling the house, they took their dogs to their cars and called 9-1-1. By the time firefighters arrived, the home was fully engulfed in flames.
It's unclear even tonight what Bearce and his brother might have lost and what might have been saved, but he was worried most about decades worth of recordings made in their music studio, important papers and his tools.
Since Bearce couldn't afford a fire safe, his 1/4 inch and eight-track tapes, along with important papers, were stored in refrigerators.
One refrigerator, which did contain tape recordings, was recovered, said Pavilion Chief Paul Dougherty, but the other is still missing and presumed destroyed.
Bearce and his brother Ken -- both musicians who played in touring bands for most of their lives -- set up a recording studio in the house. After switching to digital years ago, they've only recorded themselves, but they used to bring in other musicians to record starting in the 1970s.
Both are originally from Pavilion.
The cause of the fire is still undetermined but it appears to have started in the basement, Dougherty said.
The house was built on the side of a hill and the basement was at ground level in the back of the house and contained a workshop.
Jim and Ken had been working in the backyard cutting firewood and had been in and out of the basement with chainsaws prior to the fire starting.
"One of the chainsaws wasn't working well, so I took it into the basement to repair it," Ken said "I took part of it apart and I came back out to start putting logs on the trailer and I heard my fire alarm go off in the basement.
"I walked back in there and it was basically full of smoke, particularly over in the left-hand side," Ken added. "I grabbed my fire extinguisher and shot it in there and it didn't seem to do too much good. At that point we thought we'd better get upstairs and save the dogs.
"Jim braved the smoke and grabbed the fire extinguisher that was in the living room but he couldn't do anything with it, because he was choking when he came out. So we just gathered up the dogs and threw them in the car and called the fire department."
Ken said he had stored a couple hundred rolls of music recordings in the refrigerators. He also had thousands of dollars of tools because he works as a mechanic and painter.
Asked by a fire chief if the house was insured, Jim said he wasn't sure and the chief looked at him rather quizzically.
"Well, I pay the premimum every month," Bearce said.
Bearce said when he called the insurance company a few months ago about insuring his tools, an agent on the phone said what they would do is increase the policy to cover up to $60,000 for the contents of the house.
"I hope it covers everything," Ken said.
Years ago, the brothers sold their good analog recording machines and went digital. Since then they've just recorded their own songs together. Last night, Jim took the computers to Rochester to have them rebuilt, he said, so the digital files are presumed safe.
Since the house is a bit set back in a wooded area with only a single, tree-lined driveway up a hill, it was hard to get apparatus close to the house to fight the fire, Chief Dougherty said, but with the fire moving so fast, there was never much of a chance to fight the fire internally.
By early evening, crews were on scene to knock the house to the ground with a backhoe.
Assisting Pavilion were Le Roy, Bethany, Bergen, Town of Batavia, Stafford, Caledonia, Perry, Alexander and Churchville filling in for Le Roy. Inmates from the Wyoming Correctional Facility assisted with scene clean-up once the fire was out. The Sheriff's Office also assisted at the scene as did the American Red Cross.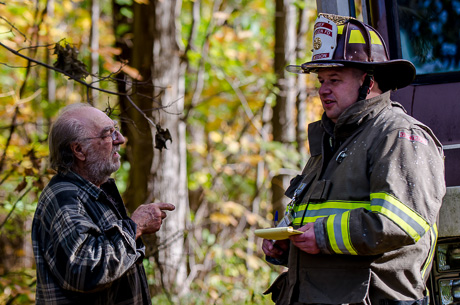 Ken Bearce talking with Bergen Chief Jeff Dodson, who was assisting with the fire investigation.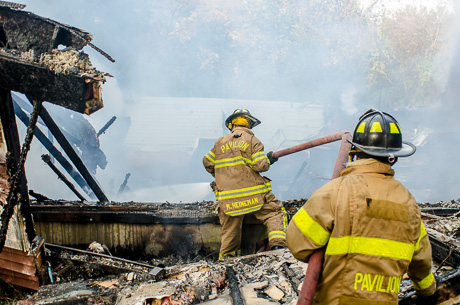 To purchase prints of these photos, click here.