Farmers say this year's onion crop coming in below average
Submitted by Howard Owens on September 11, 2013 - 9:24pm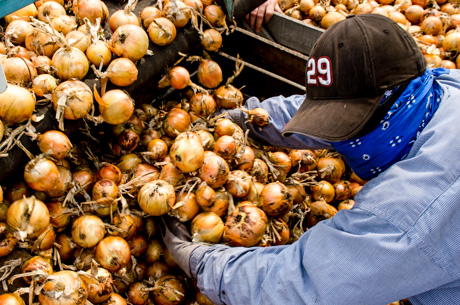 There are some years that are better than others for onion growers.
This year is one of the others.
Paul Mortellaro, co-owner of G Mortellaro And Sons in Elba, said this year's harvest will be about 60 to 75 percent of an average year and about 50 percent of a good year.
That sounds about right, said John Torrey, of Big-O Farms, Elba.
Wind, cold and rain either blew away or drowned a good portion of the onion crop this summer.
"The onions were thinned so much by the wind that you're not seeing a lot of small bulbs, but you're not seeing a lot of tonnage because there's not a high enough plant population," Mortellaro said.
Big-O runs a huge onion operation and Torrey agreed that wind and water were a problem this year.
"We've had our challenges during the growing season," Torrey said. "While we're in the midst of a full harvest, we're probably going to have a little below average yield."
The price for onions right now -- a market largely determined by Western growers -- is from $9 to $11 per 50-pound bag, Mortellero said. That's decent, but of course local onion growers would like to see it go higher.
Onions are a slow crop to bring to maturity and harvesting them is a slow process, too. The harvest started in July and will continue through October.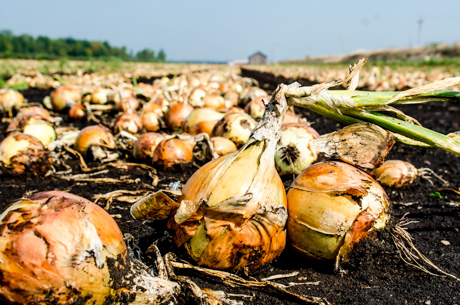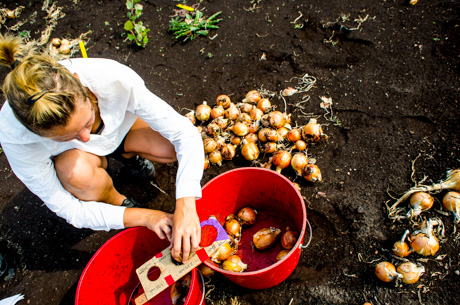 Out on the muck today, I met Elizabeth Buck and Courtney Hill, researchers from Cornell. They are assisting in a project to test four different kinds of possible treatments to combat rhizoctonia. Rhizoctonia is a fungus that goes after the roots of onions. (Pictured above, Hill; Buck is pictured in the slide show below).