Family surprised by van with signs supporting their annual charity lemonade stand in Oakfield
Submitted by Howard Owens on August 31, 2013 - 12:00pm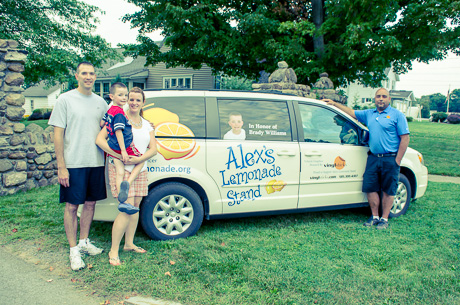 For the past five years, the Williams family of Oakfield has been setting up a lemonade stand at Oakfield Labor Days to help raise money for cancer research.
This year Alex's Lemonade Stand, named after their son, could surpass the $10,000 it's raised so far. At least that's the goal. All proceeds go to pediatric cancer research.
Alex's Lemonade Stand is a national charity named after Alexandra Scott who lost her battle with neuroblastoma in 2004. She had a vision for kids all over the world to hold lemonade stands to raise money to find a cure.
Brady Williams, age 6, was diagnosed in 2009 with neuroblastoma.
For the past several years, Megen Williams and Christina Sosnowski have talked about having a float in the annual Labor Days Parade, but once again this year, circumstances weren't going to make that possible.
So Sosnowski decided to do what she thought might be the next best thing: Get her minivan decked out with Alex's Lemonade Stand signs.
The van was shown to Megan yesterday evening for the first time.
"I was in shock (when I saw it)," Williams said. "I think I screamed then I kind of cried. I was blown away. It's really cool."
The work was completed by Joe Bradt of Vinyl Sticks in Batavia.
For more about the Alex's Lemonade Stand Foundation, click here.