Family places first headstone on gravesite of local ancestors
Submitted by Howard Owens on October 24, 2012 - 8:53am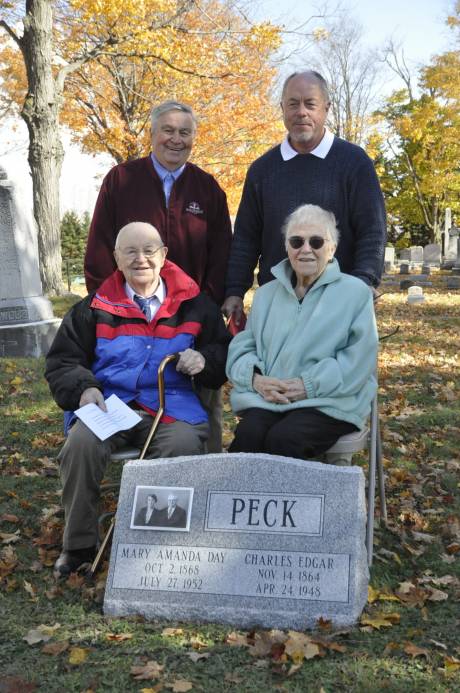 When Charles Edgar Peck died in 1945, and Mary Amanda Day Peck followed a few years later in 1952, they were very poor.
They were buried in pine boxes and no headstone marked their graves.
Their grandson always remembered the funerals at Mount Pleasant Cemetery on Dodgson Road in Alexander, but since there was no marker, he could never remember where they were buried.
That always bothered him, said his daughter Gail Kaminski, so she and other family members did a little research.
C.B. Beach Mortuary found the funeral records. So Gail, her father and his cousin, Alice Phelps, with her husband, David, met with cemetery sexton Ronald Spinks one afternoon and they used an old plot map to locate the gravesites.
The family then pooled their money together and commissioned a headstone from Derrick Monument.
This past Sunday, 35 decendents of Charles and Mary Peck gathered at the cemetery to dedicate the monument.
Afterward, the family members -- some of whom had never met -- went to a nearby church for coffee and donuts and to sit in a circle and get to know each other or just catch up.
Photo by Keith Gemerek.