Employee accused of stealing more than $3K from Batavia restaurant
Submitted by Howard B. Owens on September 6, 2012 - 9:05am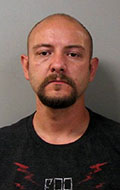 A server and bartender at Center Street Smoke House has been arrested and accused of stealing more than $3,000 from his employer.
Charged with grand larceny, 3rd, is Adam J.Hoag, 36, of 162 Ross St., Batavia.
Hoag, who was employed at the restaurant from May 2010 until May of this year, allegedly voided transactions and falsely documented receipt of discount coupons and gift certificates.
Following arraignment in city court, Hoag was released under supervision of Genesee Justice.
Third-degree grand larceny is a Class D felony.
September 6, 2012 - 10:54pm
#2
Ironic how we don't see a mug shot of Sheldon SIlver.
September 7, 2012 - 7:24am
#4
He doesn't know there is any part of NY State west of Schenectady
September 7, 2012 - 12:57pm
#5
LOL Howard, come on now. If Sheldon Silver was arrested in Albany you wouldnt request the mug shot to put with the story?