Elba Lancers take Albion to closing seconds of season opener
Submitted by Howard Owens on December 4, 2013 - 12:41am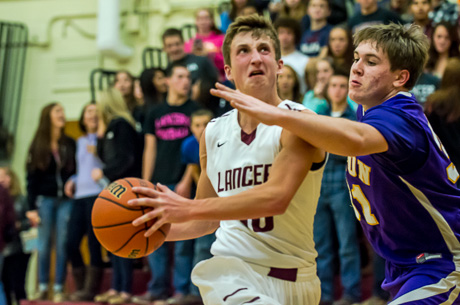 A pair of 23-point performances by Jesse Pflaumer and Brandon Naylor wasn't enough to secure victory Tuesday night for the Elba Lancers in the team's season opener against Albion.
After Elba jumped to an early double-digit lead by pulling down defensive rebounds and getting easy baskets in transition, foul trouble in the first quarter and a rash of turnovers let the Purple Eagles grab a lead it never relinquished the rest of the night.
"When switched to zone, we gave up some defensive rebounds and they (Albion) ended up cashing in on them," said Head Coach Mark Beeler.
The Lancers battled back, erasing a 10-point deficit late in the fourth quarter and when Pflaumer hit all net on a three-point jumper from the top of the key with just 26 seconds left in the game, Elba trailed by only two points, 71-69.
"That's when I really had a feeling it was going to go our way, but give Albion credit, they executed down the stretch to close it out," Beeler said.
On the in-bound pass, the Lancers fouled Albion to kill the clock and then grabbed the rebound on the missed free throw. Chad Kowalik got behind the defense and had an open path to the basket, but the pass was just a little beyond his reach and traveled out of bounds.
Albion would inbound two more times in the game, drawing fouls each time, leading to more free throws, which lead to two more points and seal the victory for the Eagles.
"I was just really happy to be in it at the end after being down 10 in the fourth," Beeler said. "The guys showed a lot of character tonight, sticking with it."
As exciting as the game was, it was also sloppy. Both teams got into foul trouble early and Albion rang up a number of fouls early in the second half (Elba slowed the pace a bit for their fouls in the third period).
The Lancers had 30 turnovers, with more than a dozen of them coming on in-bound passes, while the Eagles coughed the ball up 27 times.
"I'd like to blame it on first game jitters, but we had four scrimages so we shouldn't be that nervous," Beeler said. "Thirty is a lot. They had 27, so I'm sure (Albion's head coach) is not happy either. The third and fourth quarters were helter skelter and the intensity was amped up, and when it gets to that pace and the kids aren't used to it, turnovers are going to happen. But, yeah, you're not going to win many games with 30 turnovers."
Despite the loss, Beeler likes what he sees of his team so far and thinks with five seniors in the starting line up, a run at a sectional title is not out of the question.
"I think as these guys play and the season goes on and we eliminate some of the errors, I think we'll be right there," Beeler said "We've got good size. We've got a lot of seniors. That's going to help us down the stretch."
Beeler also has a secret weapon on the bench -- Tom Nowak, the recently retired former coach of the girls team, the coach with eight sectional titles and a state championship to his credit.
Nowak has been filling in as a part-time assistant for Beeler, whose first coaching job was working for Nowak as a girls JV coach.
"He taught me lot and continues to teach me a lot," Beeler said. "It's been great to have him in practices and definately on the bench. It's like hitting the coaching jackpot as far as getting an assistant on the bench with you."
The team responds well to Nowak's presence, Beeler said.
"When I tell the kids he's coming to practice ahead of time and as soon as I tell them he's coming in, they get excited because they know they're going to get better that day," Beeler said.
Besides the 23 points apiece for Pflaumer and Naylor, Dan Scott had 14 points. For Albion, Dez Blackmon had 20 points and Manny Thompson had 15.
Top photo: Jesse Pflaumer driving for the basket.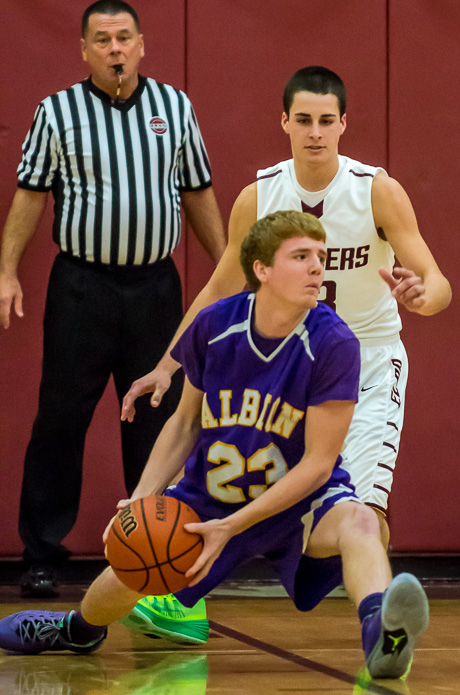 Albion's Alex Bison.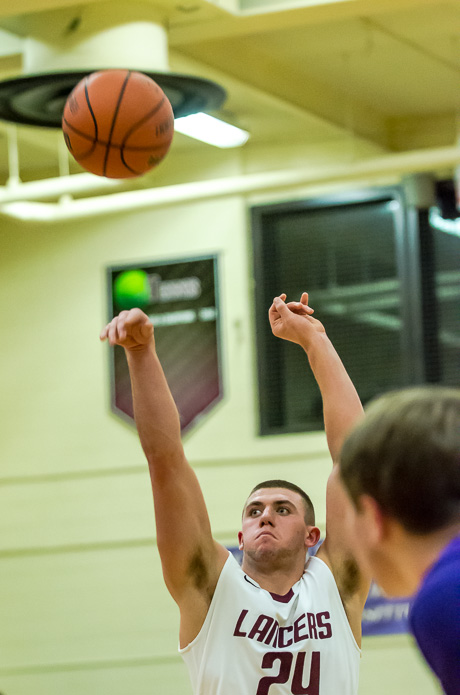 Brandon Naylor at the free throw line.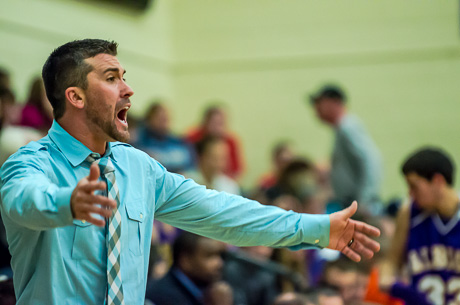 Head Coach Mark Beeler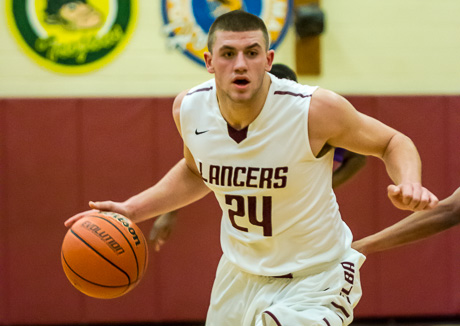 Naylor
To purchase prints of photos, click here.