Dominating first half secures 41-14 victory for Le Roy
Submitted by Howard Owens on September 21, 2013 - 8:21am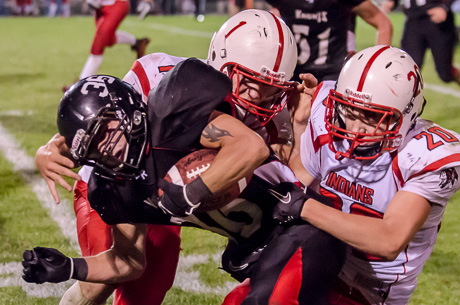 Le Roy looked like a team with barely a weakness during the first half of Friday's 41-14 victory over Letchworth.
The Indians were held to minus two yards of total offense during the half and ran only 19 plays without notching a single first down.
The Oatkan Knights (3-0) had six possession in the half and scored five offensive TDs with a total offense of 248 yards.
The one glitch was a Mike McMullen interception when the Knights seemed to be marching toward another inevitable touchdown. It was McMullen's first interception of the season.
"I thought we played well," Head Coach Brian Moran said. "I though we did a lot of things well tonight. I thought our first team played extremely well. They got off the ball well. We just did a lot good things."
McMullen tossed three touchdown passes and had a total of 118 yards through the air on the night. He was 10-16 passing. Ryan McQuillen caught all three of the TD passes.
Peter Privitera gained 145 yards on 18 carries, scoring twice.
"Peter ran very well today," Moran said. "As you know, he came off the ankle surgery and tonight he showed the Peter of old. He started to get that speed back, and acceleration."
Tom Kelso carried the ball seven times for 42 yards and one TD. Nick Egeling ran for 45 yards on six carries. Kelso also caught three passes for 42 yards.
Jake Henry had six tackles and a sack. Chandler Winling, five tackles, and with four tackles each were Brandon Van Grol, McQuillen and Egeling. Anthony Paladino had two tackles and a sack.
Letchworth came into the game with a 1-1 record, with a 30-26 win over Warsaw and a 33-0 loss to Cal-Mum.
The Indians' only real offense came late in the game with two scoring drives against mainly second-team players. The Indians were also running more stunts and option plays, opening up the offense a bit.
Moran said this week the focus during team practice will be the play of the second team.
"You've got to pay a little more attention in practice and understand what we're trying to do and play a little better," Moran said. "Our expectation is that everybody improves on our team."
Next up for Le Roy, Warsaw, which is off to an 0-3 start on the season. Game time is 7:30 at Le Roy.
For our coverage of the Batavia game, click here.
Also, last night, Pembroke (1-2) lost to Attica (3-0), 41-7. Attica's Matt Perry gained 288 yards on 17 carries, scoring six times. Perry is now the school career leader in TDs with 50 and total yards at 2,866.
Oakfield-Alabama (1-2) beat Finney (0-3) 61-0. Alan Chapp was 12-14 for 252 yards and two touchdowns, adding 72 yards on the ground. Chase Manzella gained 63 yards and scored three times. Chris Nanni added 31 yards on the ground and two TDs.
Today, two undefeated teams, Alexander and Notre Dame, clash at Notre Dame. Game time, 1:30. Elba/Byron-Bergen is at Holley.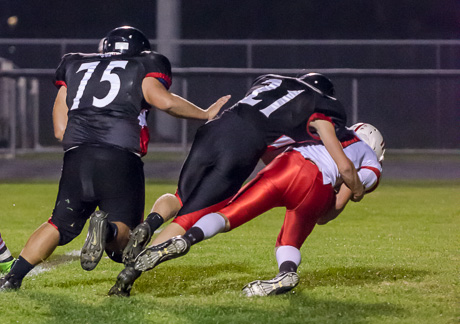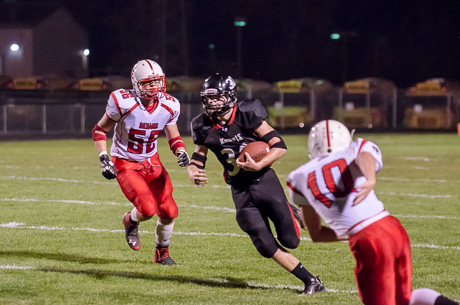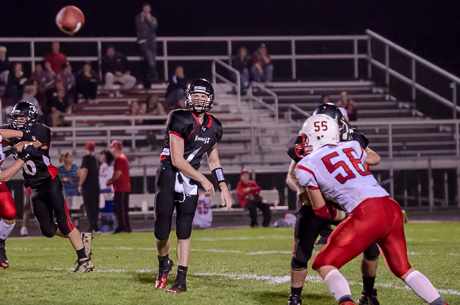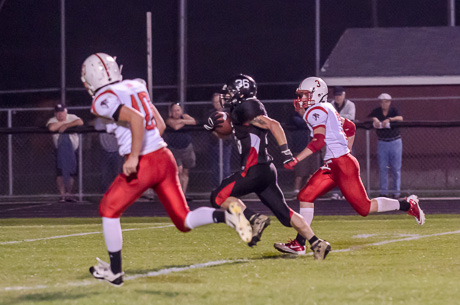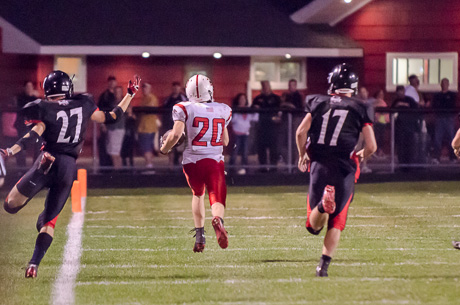 To purchase prints of photos, click here.
September 21, 2013 - 1:29pm
#4
He also might have had fake proof that he was older than he really was OR his parents are as dumb as he is.. The apple never falls far from the tree so they say.. I have seen some very lovely women in my travels that think all their ink makes them look really sexxy & kewl. What they actually look like are fuglier with what they have injected into their bodies that will be with them for the rest of their life.. And then they also complain that corporate America won't hire them because their policy of tattoos on anyone deems that they not be hired if they are in the public eye. There was this wonderful male substitute teacher at Wayland-Cohocton high school that all the kids he taught loved, but one warm spring day he rolled up his shirt sleeves & was out of a job by that afternoon. NYS Education policy stated that no visible tattoos would be allowed on their teachers and/or other employees