DNA links burglary suspect to pair of church break-ins in July
Submitted by Howard Owens on September 11, 2012 - 8:53am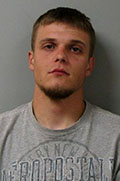 DNA test results have allegedly linked a Batavia man already suspected of stealing from a church with two more church burglaries over the summer.
John Anthony Cabrera Jr., 22, will be arraigned in city court today on two more counts of burglary in the third degree.
According to police, DNA samples gathered at the scene link Cabrera to break-ins at the First Baptist Church, 306 E. Main St., Batavia, and St. Mary's Church, 18 Ellicott St., Batavia.
Both burglaries occurred July 8.
Cabrera was allegedly caught in the act of burglarizing St. Paul's Lutheran Church on Washington Avenue on July 23.
Two days later, Cabrera allegedly escaped from the Genesee County Jail, but was apprehended before he could leave the building.