Deputy's retirement first for sworn officer in Sheriff's Office in four years
Submitted by Howard Owens on December 29, 2011 - 9:25pm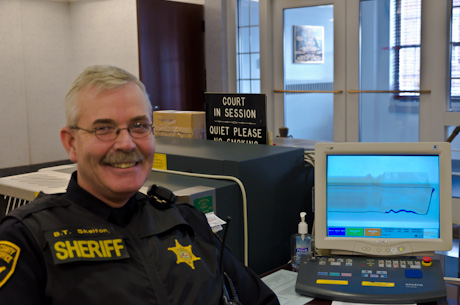 When Deputy Brian Skelton shows up for work Friday, it won't be to sit in a courtroom and listen to lawyers haggle over the fine point of some law, or tell one more man to empty his pockets before walking through the security scanner or help some inmate into the courtroom.
Rather, Friday is the day Skelton turns in his gun and badge, signs a few papers and closes out a 32-year career in the Sheriff's Office.
"It was just time to go," Skelton said.
He has no particular plans for retirement, except to spend more time with his family and play a little more golf. He might look for another job, but first, he's just going to take some time off.
Skelton is the first sworn officer in the department to retire since Sgt. Gary Russell in 2007.
Sheriff Gary Maha said there are currently several members of the department eligible to retire, but nobody has made an official announcement.
Maha's staff is currently interviewing candidates for Skelton's position in the courthouse and once he's replaced, that could lead to an opening for the Sheriff's Office to hire a new deputy.
The security staff at the courthouse is paid for the NYS Office of Court Administration.
Skelton has been assigned to court security since 1997, which is when the new courthouse opened.
He began his law enforcement career in 1980 working security for Genesee Community College. He was hired by the Sheriff's Office as a corrections officer at the jail in 1983.
After 18 months of employment at the jail, he was admitted into road patrol school and worked the roads of Genesee County from 1985 to 1997.
One night during those 12 years on the road -- this was about 20 years ago -- Skelton and his partner came across one of the two big murder cases Skelton was involved with during his career.
Skelton and his partner that night, Deputy Eric Koziarski, who was still in training, were cruising in Darien when they came across an 18-wheeler pulled over to the side of the road and the driver trying to put up cones.
When Skelton and Koziarski approached the driver, it was immediately apparent that the man -- whose name Skelton doesn't remember -- was intoxicated.
Koziarski noticed a shell casing on the roadway.
Skelton noticed some blood under the door of the sleeper cabin and the door was slightly ajar. When the deputies opened the door, there was a man laying inside with a gunshot wound to his head.
The victim was still alive, but died the next day.
The murderer was apparently getting ready to dump the body in a ditch near the road.
"The Sheriff at the time told me that if we hadn't come along when we did, it probably would have gone down as another unsolved murder," Skelton said. "The two men were both from out of the area, they didn't know each other before meeting at a truck stop that night, and the trucker would have been long gone before we found the body."
The other murder case where Skelton showed up at the right place at the right time involved a group of traveling magazine sales reps.
Skelton was dispatched to what is now the Clarion Hotel where a woman wanted to file a complaint about a possible assault.
While Skelton was talking with the woman, the two suspects showed up and she said, "there they are."
The two young men took off running. Skelton was able to tackle one and the other was eventually captured on the grounds of the VA Hospital.
It would be another half day before the bodies of the victims were found, dumped in a quarry off Seven Springs Road.
It turned out that the group had cooked up a plan to rob the gas station at the corner of Cedar and Ellicott streets. When two of the members of the group decided to back out, the other two young men decided to bash their heads in with rocks for fear the other two guys might snitch.
Both killers were eventually given sentences of life without parole.
Being in the right place at the right time figured prominently in other cases Skelton helped crack, such as the time in Alexander he came across a truck pulled over on Sandpit Road with a stolen riding mower in the bed, or the stolen vehicle he stopped for a traffic violation, only to notice broken glass and the ignition was punched out (the car, stolen out of Buffalo, hadn't even been reported missing yet). The driver, it turned out, was wanted on an arson warrant.
But even with the excitement of road patrol, when there was an opportunity to move to court security, it seemed like a good deal, Skelton said. Court security means all day shifts with weekends and holidays off.
Not that it's all a bed of roses in the courthouse.
Not everybody appreciates or understands the need for secuirty and they will complain about emptying their pockets, going through the scanner, getting bags and briefcases scanned, and are just some times unhappy with being summoned to court at all.
"It can be trying and get on your nerves at times," Skelton said.
While defendants and people in the gallery can get unruly in court at times, Skelton said he doesn't remember ever needing to wrestle anybody to the ground or make an arrest.
But working in the court house, seeing some cases from beginning to end, has been an eye-opener about how the legal process works, something he thinks all police officers would benefit from seeing.
"It's a lot different from being on the road," Skelton said. "Lawyers have 45 days just to file motions on their clients' behalf, so they have a lot of time to look into a case, where a lot of times, a police officer doesn't have a lot of time before making an arrest.
"(Officers should) come in and listen to a case from start to finish for a jury trial," Skelton said. "It opened my eyes quite a bit. I remember stuff I used to do on the road and in investigating cases and not worrying, say, about little things, and later those little things become big things in the case."
December 30, 2011 - 8:27am
#3
Way to go, Brian.
You made the job at the Court House look easy.
I'm sure I'm not the only researcher who passed through your check point ladened with notebooks, odds and ends loose paper, and other things and took your patience for granted.